Brassard, Marie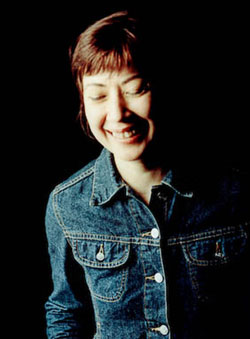 Marie Brassard
Photo by Philippe Levy
Playwright, director, performer Marie Brassard was born in Trois-Rivièeres August 11, 1959. She has created innovative imagistic theatre and film for Canadian and international audiences, using dance, music, sound, and lighting as ways of dislocating linear narrative. She studied at the Conservatoire d'Art Dramatique de Québec, then joined Théâtre Répère in 1985, an experimental group which created plays from a process which began with a concrete object or image, and improvised a score which was then analysed and performed. For more than a decade she collaborated with playwright/director Robert Lepage in productions of The Dragon's Trilogy, Polygraph, The Seven Streams of the River Ota, and The Geometry of Miracles. She has also performed as Lady Macbeth in Macbeth, and as Ariel in The Tempest, both directed by Lepage. Both productions toured in Europe, Asia, America, and Australia.
Her movie credits include the role of Lucie Champagne in Le Polygraphe, and of Hanako in No. She has also acted in the TV political satire series, Bunker.
Brassard's first solo play, entitled Jimmy, créature de Rêve, premiered in June 2001 at the Festival de Théâtre des Amériques (now Festival TransAmériques). It has since toured in more than twenty countries in Europe and North America, and in Australia. She has presented the English version, entitled Jimmy in Stockholm, Götenborg, Dublin, Glasgow, Madrid, Berlin, Calgary, and Edmonton. It has been translated into German, and produced in three German cities.
She is Artistic Director of the production company Infrarouge, which was founded in 2001 with administrator Michel Bernatchez and stage designer Simon Guilbault. With this company, she continues to explore unfamiliar landscapes and to develop a personal theatrical language involving the use of sound-related new technologies.
In June 2003, in collaboration with musician Alexander MacSween, artist Cécile Babiole, actor Guy Trifiro, light designer Eric Fauque and stage designer Simon Guilbault, Marie Brassard created La noirceur (The Darkness), on the subject of loss, friendship and real estate development, which premiered in Montreal in June 2003 at the Festival de Théâtre des Amériques.
Her play Peepshow, was created with Alexander MacSween, and premiered in English in Toronto May 2005 and in French in Montreal in June 2005 during Festival de Théâtre des Amériques. The play has been presented since in many European cities, including Vienna, Munich, Berlin, Milan, Brussels and Götenborg as well as in Melbourne, Australia. It was also presented in Calgary by Theatre Junction in the Grand Theatre in November 2007. In Peepshow, Brassard articulates the many voices of desire: "a young girl slyly encouraging an older man to stalk her; a woman whose love for a stray dog eventually introduces her to the delights of bondage; a gay couple on the verge of breaking up; a teacher who self-mutilates as a reminder of a lost love" (National Arts Centre Communications & Media Relations).
The Invisible, premiered in June 2008 at Festival de Théâtre des Amériques. It has also played in Geneva's La Bâtie Festival, at Vancouver's PuSh International Performing Arts Festival, and Calgary's Theatre Junction in February 2008, and toured extensively. "The city of Berlin, ectoplasms ...and a literary hoax involving JT Leroy, a writer dreamed up by a woman looking to get published, provide Marie Brassard with ideal metaphorical material for a reflection on art and creation, on the porous boundary between the creator, and the resultant creature" (Theatre Junction Marketing and Communications).
Me Talking to MySelf in the Future opened at Buddies in Bad Times, March 2014. In the future, a dying old woman drifts among the thoughts of someone in the present. A surreal portrait of past and future selves unfolds in a fantastical dream world evoked by words and music.
Other works include: Trieste (2013), La frueur de ce que je pense (2013, 2022), La vie utile (2018), Eclipse (2018), Introduction a la violence (2019), and Violence (2022).
Brassard has won the Critics Prize for Best Foreign Actress, Barcelona, 1990; the Chalmers Award for best playwright for Le Polygraphe, 1991; a Dora Mavor Moore Award for best touring production for Jimmy, 2006. In 2016, she inducted into the Order of Arts and Letters; and in 2022, she received the Siminovitch Prize in Theatre. Jury chair Guillermo Verdecchia noted "the theatrical poetry" of Marie Brassard's work, on its richness and multi-dimensionality. Marie's work is simultaneously dream-like, ethereal and immediate, visceral and compelling. She is renowned for her long and patient development of work, for deep listening and for bringing out the best from her collaborators." She was also nominated for a Genie Award in 1997 for best actress and best screen play for the film version of Le Polygraphe.
The play Jimmy has been published in Italian by Il principe costante Edizioni; Jimmy, La Noirceur and Peepshow have been published in German by TheaterStück Verlag; Polygraph (with Robert Lepage)and The Seven Streams of the River Ota (with Robert Lepage and collective) were published in English by Methuen.
Sources: Theatre Junction Marketing and Communications
Siminovitch Prize in Theatre website, 2022.
Profile by Anne Nothof, Athabasca University
Last updated 2022-12-07