Brown, Kenneth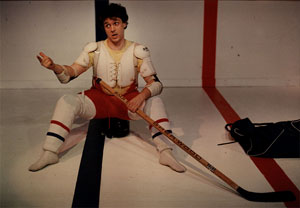 Ken Brown in Life After Hockey, Nexus Theatre, 1985.
Photo courtesy of University of Alberta archives.
Playwright, actor, director, producer, and educator, Kenneth Brown is a graduate of the National Theatre School of Canada, and of the University of Alberta (M.A.). He began his theatre career in 1971 with Edmonton Experimental Theatre.
His work exemplifies his many diverse interests--in content as well as form. He is dedicated to telling Canadian stories in his plays, which include Life After Hockey (Nexus Theatre 1985), My Father's House, Cambodia, a play for people who find television too slow, Balance, Uncle Van, The Garneau Kid, and Letters in Wartime, (co-written with Stephen Scriver).
Since 1984, most of his works have premiered at the Edmonton International Fringe Festival, including the performance art piece, Water (2007). Many have toured to Fringes across Canada, including the trilogy Spiral Dive (2008, 2009, 2010)-- about the coming-of-age of a young Canadian fighter pilot in WWII. In January 2011, the trilogy was produced in its entirety by Workshop West Theatre (dir. Brown). Like Billy Bishop Goes to War it tackles significant historical events and weighty issues through minimal set and few actors, and calls into question any "glory" associated with war. The mood of each play grows progressively darker, as the horrors and tragic losses of war are exposed. The flamboyant narrative style sometimes overrides dramatic irony in this ambitious work.
Brown's contribution to the 2018 Edmonton Fringe was a "fantasia cabaret" with WWI songs, featuring ace German fighter pilot, Baron von Richthofen (the Red Baron), and the unprepossessing Canadian who shot him down over the Somme--Roy Brown. Set in an officer's mess at the end of the world, it demonstrates the fundamental difference between the two "heroes" in their response to war.
In 2013, Brown's romantic comedy, Double Double opened at Workshop West. Two single parents meet regularly at Tim Horton's and explore the possibility of a new relationship.
Kenneth Brown has also championed a literary theatre with his adaptations of Fielding, Dickens, and Shakespeare. Many of his plays are produced by his company, THEATrePUBLIC, and its young company spinoffs: The Poor Man's Classic Co-op, and RIBBITrePUBLIC.
He has appeared as an actor across the country and abroad, most famously as Rink Rat Brown in Life After Hockey, a paean to hockey and Wayne Gretsky performed as a monologue on roller skates, which travelled to the Expo Canada Pavilion in 1986, and toured Canada twice and in Europe.
His awards include several Sterling Awards and two AMPIAs for screenplay and acting.
As an instructor at MacEwan University in Edmonton, Ken Brown encouraged his students' theatrical projects, including the development of Metis Mutt by Sheldon Elter, who has since graduated to become a highly-regarded Edmonton playwright and actor.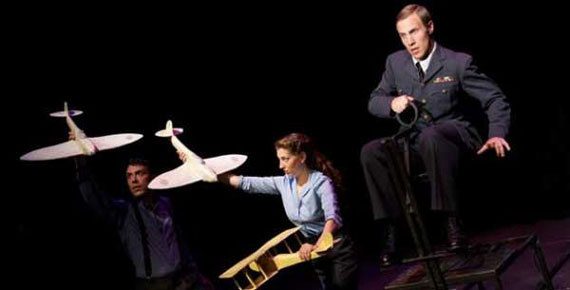 Spiral Dive, with (l.to r.) Bryan D. Webb, Caley Suliak, and Blake William Turner
Profile by Anne Nothof, Athabasca University
Last updated 2018-08-23