Nexus Theatre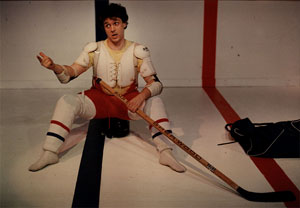 Ken Brown in Life After Hockey, Nexus Theatre, 1985.
Photo courtesy of University of Alberta archives.
Lunch-time theatre, based in downtown Edmonton Alberta, which produced one-act plays and musicals from 1982 to 1995. It originated in a cooperative named "Tuesday's Players," led by David Russell and Linda Pollard, and one of the members of the collective, Ben Henderson (M.F.A, University of Alberta), became its first Artistic Director in 1983.
The first productions were held in the Centennial Library Theatre and the Art Gallery Theatre, with occasional evening dinner theatre productions at Sid's Restaurant. In 1983, Nexus moved into a space donated by Alberta Government Telephones in McCauley Plaza, seating eighty. Henderson commissioned and directed original works, along with more traditional fare. In 1987, after a financial crisis when city funding was drastically reduced, John Milton Branton became Artistic Director, relocating from the Factory Theatre in Toronto. He produced more musicals, an annual Christmas show, such as A Child's Christmas in Wales, and began a Sunday brunch series at the Hotel Macdonald. From 1991 to 1993, Earl Klein was A.D., weathering hard financial times: Nexus lost its Canada Council funding, and its AGT theatre space. Although Sean Quigley undertook to save Nexus, he managed to produce only one play, Sexual Perversity in Chicago at the Roxy Theatre in 1994.
Nexus produced fifty new works by many young playwrights who would go on to make a significant contribution to Canadian theatre, including: Life After Hockey by Ken Brown (1985/86); The Thin Edge by Conni Massing (1986/87); The Late Blumer by John Lazarus (1988/89); The Punch Club by Ronnie Burkett (Nov 1989); Ba Ha Ha by Lyle Victor Albert (Feb 1993); Conversations with My Neighbour's Pit Bull by Clem Martini (Oct 1993); and The Parallax Garden by Paddy Campbell (1992/93, with actors Joy Coghill, Marianne Copithorne, and Robert Clinton, directed by Earl Klein.
The popular musical, Gimme That Prime Time Religion (1984) by Robert Winslow and Ben Henderson played at the Edmonton International Fringe Festival, and travelled to the Edinburgh Fringe Festival in 1986.
Source: Don Perkins, "Introduction," Nexus Theatre, University of Alberta Archives. Accession number 96-49.
Profile by Anne Nothof, Athabasca University
Last updated 2010-04-23