Christie, Dinah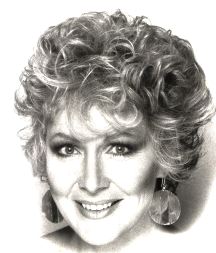 Actor/entertainer, born in London, England 29 December 1942, into a theatrical family. She came to Canada with her family at the age of two. At age thirteen, Dinah Christie was hired as a call boy ("One minute, Mr. Plummer...") at the Stratford Festival where her father Robert Christie was acting. She soon appeared on stage and was in the Stratford resident company for four seasons, including a tour to England.
In 1965, she and Tom Kneebone began to do musical reviews together, including Ding Dong at The Dell and Oh Coward, which ran for sixty weeks, including tours across Canada and in the Eastern United States.
In 1995, she replaced Barbara Hamilton in the Edwin Mirvish production of Crazy for You at Toronto's Royal Alexandra Theatre.
She is best known, in much of Canada, for a stint she did as singing hostess (landing the gig over 380 others) on the insanely controversial CBC TV show, This Hour has Seven Days. Dinah Christie has also performed with Bob Hope.
She toured with the Noel Coward tribute A Marvellous Party (1999/2000) at Gryphon Theatre, Centrepoint Theatre, Ottawa, and other venues.
She has written twenty-nine plays, including Paddle Song, about the Mohawk poet, Pauline Johnson (2009).
She currently lives on a farm in Ontario with her husband, Robert Warren, a photographer.
Profile by Gaetan Charlebois. Additional information by Claire Sedore.
Last updated 2020-11-04