Emily Carr: A Stage Biography with Pictures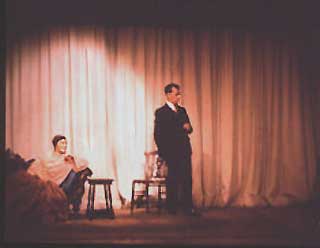 Begun in 1951, Herman Voaden's three-act Emily Carr: A Stage Biography With Pictures was judged one of the ten best plays of 185 scripts submitted in the 1958-59 Stratford Festival - Globe and Mail playwriting competition. The play was first produced by the Department of Drama, Queen's University, August 6-8, 1960, directed by William Angus. Amelia Hall played the title role of Emily.
Though written as a realistic historical drama depicting Carr's life from 1886 to her death in 1945, Voaden's Emily Carr also echoes many of the themes and the stylistic form of his "symphonic expressionist" plays of the 1930s. Voaden and Lowrie Warrener had met Carr in Victoria while on their 1930 trans-Canada journey during which they had written Symphony. Voaden identified with Carr's struggle for artistic self-expression and recognition, her love of nature and country, and her mysticism. In his dramatization, Emily informs her life-long admirer:
It's a kind of light I'm seeking, Martyn--what the saints died for. Dede says I'm not religious. I am, in my own special way--perhaps more than she is. The world is like a dream, with depths and reaches all about me. And inside me is this big excitement, bigger sometimes than I can contain. And it will come out of me--it has to--in my painting--perhaps in writing too.
Voaden was greatly impressed by Carr's writings and used her Growing Pains, The Book of Small, Klee Wyck, The House of All Sorts and The Heart of a Peacock as a basis for his characters and incidents. He was still hoping to develop further his multi-media "symphonic" stage language so that in his Emily Carr "painting and the theatre would be webbed together as never before." He attempted to fuse the visual and dramatic arts through the use of slide projections of Carr's paintings, but this concept did not successfully combine with the confined realistic interior setting on the small Convocation Hall stage at Queen's University. He had also planned to use music to emphasize the emotional currents and moods of the play. When Amelia Hall in the title role of Emily refused to deliver her lines to musical accompaniment, this further attempt to introduce symphonic multi-media elements in the production had to be abandoned.
The 1960 Queen's University premiere of Emily Carr was nevertheless critically well received. Basya Hunter, artistic director of the Toronto Arts Theatre, observed in the Globe and Mail that "The artist is governed by two primary forces - one, to penetrate the roots of his own existence, and the other to penetrate the roots of the existence around him. This major conflict in the life of Emily Carr, her incessant search and struggle to find and find again, was made clear by the playwright."
In the Toronto Telegram, Rose Macdonald praised Voaden for having written "a play that is warm with laughter which can be akin to tears. It is also vigorously honest." Robert Fulford, in the Toronto Star, called the production "a documentary of considerable force and warmth...Miss Hall plays Emily Carr with a profoundly irreverent sense of irony and a deep knowledge of pathos. She offers us not an historical figure but a living woman, full of energy, ambition, malice, and love." Peter Mannering adapted and directed a revival of Emily Carr, produced by the Greater Victoria Centennial Society, at the McPherson Playhouse in Victoria October 26-29, 1966.
Commentary by Anton Wagner
Last updated 2020-08-24