Hall, Amelia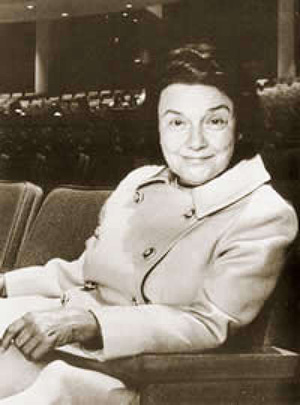 Amelia Hall
Grande dame of the Canadian stage, born in Leeds, England in 1916, died in Toronto, Ontario in 1984.
Amelia Hall had a very active career before she became the first woman to walk onto the Stratford Festival stage as Lady Anne in Tyrone Guthrie's Richard III opposite Alec Guinness in 1953. Her name is closely associated with the history of the Festival.
She graduated from McMaster University with a B.A. in 1938, and taught school in Ottawa for eight years, becoming increasingly involved with theatre. She acted at Brae Manor Playhouse in 1945 and 1947, and with the Canadian Art Theatre in 1948 for summer touring productions. She joined the Canadian Repertory Theatre in Ottawa in 1949, appearing in or directing most of its 150 productions, and serving as Artistic Director from 1950-59.
In the 1950s she was also active with Montreal Repertory Theatre and Toronto's Crest Theatre, performing in its celebrated production of Three Sisters (with Kate Reid and Charmion King).
At Stratford, she was featured in dozens of productions, including the magnificent 1978 John Hirsch production of Three Sisters, Tartuffe and the Stratford/Royal Alexandra Theatre production of Separate Tables (her last performance, 1984).
Among the other significant productions in which she starred was Herman Voaden's Emily Carr: A Stage Biography with Pictures, at Queen's University in 1960.
Amelia Hall also had a solid film and television career.
Her memoir, Life Before Stratford (ed. Diane Mew) was published by Dundurn Press in 1990. An archival collection on this subject is available at the Toronto Reference Library. The Amelia Hall archival fonds are at Library and Archives Canada (http://www.bac-lac.gc.ca/eng/)
Profile by Gaetan Charlebois.
Last updated 2021-01-22