King, Charmion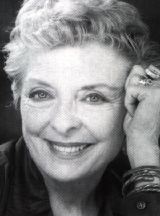 Charmion King
A major player in Canadian theatre, born in Toronto, Ontario, July 25, 1925, died January 6, 2007.
Charmion King began her career with the Hart House Theatre at the University of Toronto with a critically acclaimed performance as St. Joan in Bernard Shaw's play. She was active in the Crest Theatre, performing in (among others) Chekhov's Three Sisters (opposite Kate Reid and Amelia Hall). She also performed in summer stock in Bermuda and co-founded Muskoka's Straw Hat Players.
She appeared many times at the Stratford Festival including in the 1959 production of Shakespeare's Winter's Tale in which she played Hermione. In 1960 she performed in Robertson Davies' Love and Libel (dir. Tyrone Guthrie).
She performed in many diverse roles on television, in film and on stage, notably as Jessica Logan in the premiere production of David French's Jitters in 1979, reprising the role at New Haven's Long Wharf Theatre in the same year, and at the Toronto revival in 1986. In 1990 she again performed opposite Kate Reid in a Hart House Theatre revival of Arsenic and Old Lace. In 1998 she starred in the Tarragon Theatre production of Janet Munsil's Emphysema (A Love Story) with her daughter Leah; in 2000 in the Factory Theatre production of Claudia Dey's Beaver; in 2001 in the Soulpepper Theatre Company's production of Present Laughter, and in 2006 in Our Town (Soulpepper).
Charmion King's performances were marked by a remarkable voice and a huge stage presence. She relished the excitement of live theatre, where "you are at your most vulnerable and you give to the audience ... it is the most rewarding thing in the world."
She was married to actor Gordon Pinsent for 44 years.
An archival collection on Charmion King is available at the Toronto Reference Library.
Profile by Gaetan Charlebois. Additional information provided by Christopher Hoile.
Last updated 2013-01-20