Epp, Richard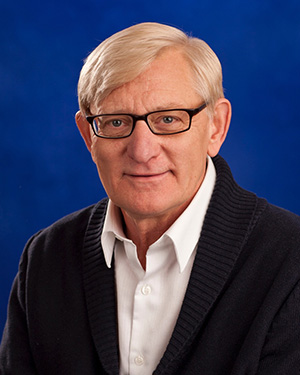 Richard Epp
Playwright, actor and director, born in Prince Albert, Saskatchewan in 1948 and educated at the Universities of Saskatchewan (B.A. Honours in Drama, 1971) and Victoria (M.F.A. in Theatre Directing, 1974). Richard Epp is Professor Emeritus of the Department of Theatre and Dramatic Arts at the University of Lethbridge where he taught playwriting and acting, and directed more than 30 productions in a career which spanned nearly 37 years.
Epp is a member of Canadian Actors' Equity Association and the Playwrights Guild of Canada. His acting credits include roles with Theatre at the Gallery, Saskatoon 1969/70 (John Wright, Artistic Director), Shakespeare Plus, Nanaimo 1986 (Janet Wright, Artistic Director) and Theatre Calgary most recently in 2009 in An Ideal Husband (Marti Maraden, director). In his Department career, alongside students and colleagues, he played The Ragpicker in The Madwoman of Chaillot, Prospero in The Tempest, Saunders in Lend Me a Tenor, The Father in Six Characters in Search of an Author, Marius Byleveld in The Road to Mecca and Doctor Dorn in The Seagull.
His full-length plays include Treasures (Lord Beaverbrook High School, Calgary 1981) and Christmas Pudding (Southern Stage, Lethbridge 1982). Kristallnacht, about a young German soldier working on a farm in southern Alberta as a prisoner of war, premiered at the University of Lethbridge in 1985, then produced by Edmonton's Theatre Network 1986 (dir. Warren Hartman). Japango (on the voyages of Columbus) opened at Cincinnati Playhouse in the Park, January 1992. His Intimate Admiration, given a limited run at Theatre Calgary in 1986, remains one of a few plays by Canadian authors to be produced by the Stratford Festival; it played the Avon Theatre in the summer of 1987 with John Neville and Lucy Peacock (dir. John Wood), and was recorded by CBC Radio in its Stratford Festival Series with the same cast in 1995.
Epp has won awards for his writing, notably for Treasures, winner of the Alberta Culture Playwriting Competition of 1978, and Winter Pond which placed second in the (Alberta) Television and Film Institute Screenwriting Competition of 1995. Winter Pond was subsequently adapted for the stage and given a production at the University of Lethbridge.
Kristallnacht, Japango and Intimate Admiration (revised 2013) have been published electronically by Playwrights Canada, and monologues from Kristallnacht and Intimate Admiration appear in Tony Hamill's (ed.) The Perfect Piece (1991), Another Perfect Piece (1995) and You're Making a Scene (1993).
Richard Epp resides with his wife Gwenyth in Victoria, B.C.
Last updated 2017-02-07