Rinfret, Jean-Claude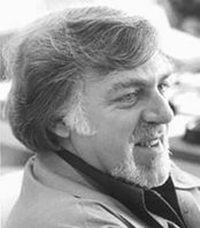 Jean-Claude Rinfret
Set designer, born in Shawinigan, Quebec in 1929; died March 8, 2003 at the age of 73. He studied at the École des Beaux Arts in Montreal and at l'École nationale supérieure des arts décoratifs in Paris, where he absorbed the aesthetic of a harmony, collaboration, and unity of effect: the set as an element of representation, integral to the performance. It plays a role, and may even function as a character.
As a student, Rinfret seized every opportunity to work in theatre. For Compagnons de Saint-Laurent he painted the sets of Robert Prévost; in Shawinigan, he founded les Compagnons de Shawinigan with the motto: "Art for art's sake"; and he jointed l'Ordre de Bon Temps, a secular movement dedicated to the arts.
From 1954 to 1967, he designed more than 75 productions for Radio-Canada's l'Heure du concert and le Téléthéâtre de Radio-Canada, including Œdipus Rex by Stravinsky (1956), Roméo et Juliette by Gounod (1957), la Grande-Duchesse de Gérolstein by Offenbach (1958), Un mois à la campagne by Tourgueniev (1959), Chemin privé by Guy Dufresne (1960), Volpone, after Ben Johnson (1961), Hanzel et Gretel by Humperdinck (1962), and Orphée et Eurydice by Gluck (1963). His television designs were constructed to maximize the element of perspective and different levels for the action, more architectural than decorative.
During the 1960s, when theatres began to produce works by Quebec playwrights, he designed for over 120 theatrical productions for Théâtre-Club, Théâtre du Rideau Vert, Nouvelle Compagnie Théâtrale / Théâtre Denise-Pelletier, Comédie-Canadienne, Théâtre Populaire du Québec; and participated in several important premieres including those of Les Beaux Dimanches, Au Retour des oies blanches, Un Simple soldat, and Hier, les enfants dansaient (1966).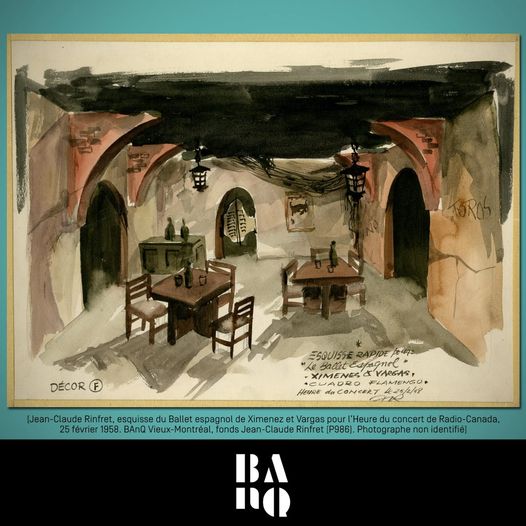 Set design by Jean-Claude Rinfret for Ximénez-vargas Ballet Español, L'Heure du concert, Radio-Canada, 2 Feb 1958.
His most realistic sets were created for Quebec plays at Comédie-Canadienne and Théâtre du Rideau Vert during the 1950s and 60s; but his preference was otherwise: "On n'a pas à représenter la réalité au théâtre. Plus c'est réel plus c'est faux. Tout ce qui est vrai au théâtre est artificiel et fabriqué." (quoted in Hélene Beauchamp, "Jean-Claude Rinfret, un décorateur scénographe au cœur des années 60," Jeu 119 [2006]).
Rinfret also designed extensively for opera and ballet to eulogistic critical reception, and represented Canada in the first Quadriennale de Prague in 1967. He taught at the École des Beaux Arts, the National Theatre School of Canada and the Banff Centre for the Arts.
Rinfret's archival fonds, preserved at BAnQ Vieux-Montréal, contain approximately 400 drawings, sketches, models; quotes and scenographic notebooks of theatrical productions, ballets, television and operas from 1950 to 1970 ; Photographs and correspondence.
Source: Hélene Beauchamp, "Jean-Claude Rinfret, un décorateur scénographe au cœur des années 60," Jeu 119 (2006).
Last updated 2021-09-01