Jordão, Aida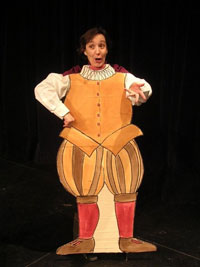 Aida Jordão as The Poet in On the Death of Inês de Castro, 2008; photo by Gabrielle Houle
Actor, playwright and popular theatre director, committed to feminist art and Portuguese-Canadian cultural projects. Aida Jordão was born in Lisboa, Portugal and has lived in Toronto Ontario since she was nine years old. Embracing and intertwining two national cultures and two political cultures -- feminism and socialism – has influenced most of her theatre work.
After graduating from The Drama Studio (London, UK), Aida worked as an actor in Toronto for Theatre Passe Muraille and Factory Theatre (among others) but found her niche in 1983 when she acted in Nightwood Theatre's re-vision of Antigone. Soon after she joined another vanguard of Canadian feminism, the original collective creative team of This Is for You Anna. Moving to Portugal shortly after, she worked with Teatro O Bando, performing in plays for children and young people that challenged nationalist myths. It was there that she met her husband, musician and instrument maker Nuno Cristo. Upon her return to Toronto, building on her European experience, she directed several Portuguese-Canadian popular theatre plays in community/cultural centres and continues to do so.
In 1985, Aida became a founding actor of the Company of Sirens and co-created The Working People's Picture Show, touring union halls, women's shelters, schools and universities for several years. She also worked with other Toronto popular theatre companies, like Ground Zero Productions and Straight Stitching Productions, and collaborated with Teatro Teycoyani in Nicaragua.
In the 90's, following another stint with Teatro O Bando in Portugal, she wrote her bilingual plays (Portuguese and English) Funeral in White and My Aunt's Neighbours (the latter had a staged reading in Macau in 2007), collaborated with Cuba's Teatro Escambray and began directing Forum Theatre plays based on Augusto Boal's Theatre of the Oppressed methodology for labour/community groups.
Aida has been the Education Manager at Lorraine Kimsa Theatre for Young People (now Young People's Theatre. She holds a PhD from the Centre for Drama, Theatre and Performance Studies at the University of Toronto. Her dissertation is titled "Ines de Castro in Theatre and Film: A Feminist Exhumation of the Dead Queen." Her studies have inspired her to create new feminist-socialist and Portuguese-Canadian plays. Working with a feminist collective she has written Las Pasionarias, about Spanish Civil War communist leader Dolores Ibárruri, which had a staged reading at Nightwood's 2005 Groundswell Festival. Re-visioning Portugal's medieval Dead Queen, Aida has staged On the Death of Inês de Castro, and How She Dies, at the Drama Centre and the Portuguese Consulate of Toronto (2008 and 2009). She teaches at York University and the University of Toronto.
Aida also continues to work with both professional theatre workers and community participants locally and globally to devise original political theatre.
Her publications include:
"Women and Tradition: Funeral em Branco and My Aunt's Neighbours." The Voice and Choice of Portuguese Immigrant Women. Eds. M. Marujo, A. Baptista, A. Barbosa. University of Toronto, Department of Spanish and Portuguese, 2005.
"Playwriting in Canadian Popular Theatre: Developing Plays with Actors and Non-Actors," Canadian Theatre Review 115 (Summer 2003).
"The Alt Stage and the Po-mo Page: Canadian Spaces for an Anglo-Portuguese Dramaturgy," Theatre Research in Canada 38.2 (Fall 2017): 186-200.
Last updated 2018-01-11