Greene, Lorne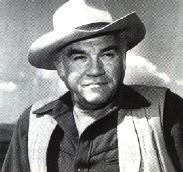 Lorne Greene
Popular actor born in Ottawa, Ontario in 1915, died in Santa Monica, California in 1987.
He was the only child (a brother having died during the flu epidemic of 1918), of a shoemaker (Daniel) and his wife (Dora). He made his acting debut in a school play as Moses. His parents wanted him to be a concert violinst, but he purposely injured his hand to escape this fate. He studied at Queen's University (French, German and chemical engineering) and was very active in the Dramatic Guild.
He studied theatre in New York for two years, returning to Toronto and the CBC (1939-42). He served during the war as a private doing homefront interviews for radio. After the war, he established the Jupiter Theatre and the Academy of Radio Arts (two notable students were Mavor Moore and Leslie Nielsen). He also acted with the Earle Grey Players and the New Play Society.
He played in the 1955 season of the Stratford Festival and acted in productions under Michael Langham and Tyrone Guthrie. He performed on stages in New York, London and Toronto.
Well known to the world as Pa Cartwright in the TV series, Bonanza, Greene will never be forgotten as CBC radio's "voice of doom" during WWII--regularly arriving in people's kitchens with important news from the front.
He was married twice and had three children: Linda, Charles and Gillian.
He was named to the Order of Canada.
Viewings: Who Is Lorne Green?, CBC TV, Life and Times, 1998, produced and directed by Halya S. Kuchmij, written by Allen Abel
Profile by Gaetan Charlebois
Last updated 2016-03-23