Manitoba Theatre for Young People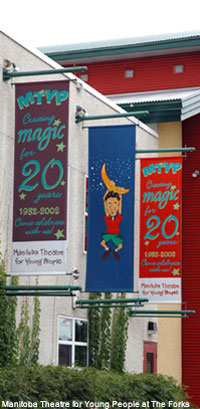 Theatre company, based in Winnipeg Manitoba, MTYP was founded in 1982 by Leslee Silverman, its first Artistic Director, as a professional company devoted to theatre for young audiences (TYA). The organization had previously operated as the "Actors' Showcase," incorporated in 1977, as a forum to showcase local talent. The change in name and focus for the organization in 1982 saw the new company assume a national profile whereby MTYP helped to redefine theatre for youth, "…in new artistic directions away from entertainment for entertainment's sake toward a theatrical mix that includes social activism and new approaches to traditional material." (Canadian Theatre Review, 1985).
Each season, MTYP reaches approximately 90,000 Manitobans through mainstage productions, touring shows, drama workshops, arts facility renters, and the 1,600 children and teens who enrol each year in the MTYP Theatre School and Native Youth Theatre. Thousands more have benefited across Canada and abroad when MTYP has embarked on national and international tours.
MTYP is one of the most respected professional theatre companies in Canada, for children and adults. The company has received numerous honours and awards, including being the first English theatre to win the Canadian Institute of the Arts for Young Audiences Award in 1992; multiple Dora Mavor Moore Awards and Jessie Richardson Awards, and Chalmers Awards nominations for plays it has commissioned and premiered; as well as many local, provincial and national citations. In 2010, MTYP was the recipient of the 2010 Human Rights Commitment Award of Manitoba for "the achievement of promoting human rights and social transformation for almost 30 years."
Notable premieres include: Old Friends by Ronnie Burkett, which was nominated for a Chalmers Award for the Toronto production in 1998; and The Rick Hansen Story by Dennis Foon, created for the Cultural Olympiad in Vancouver 2010, and opening with the Paralympic Games. MTYP tours its productions across Canada, and hosts youth theatre productions from Canada and around the world.
Located today on Treaty 1 land and the homeland of the Métis nation at The Forks in Winnipeg, MTYP's home is a 28,000 square foot performance facility featuring a fully re-configurable theatre, classroom studios, and full production and wardrobe shops. The theatre building has been called "a singular landmark on the Canadian Cultural landscape." (CBC Radio). MTYP operates the facility for use with its own programming, and as a cultural hub for the entire community, facilitating arts companies such as the Thin Air International Writer's Festival, the Winnipeg Symphony Orchestra, the Fringe Festival, Dry Cold Productions, the International Children's Festival and many others.
Since 2014, the Artistic Director is Pablo Felices-Luna.
Web site: www.mtyp.ca
Information provided by Riva Billows, Communications Coordinator, MTYP
Last updated 2021-02-05