Mary's Wedding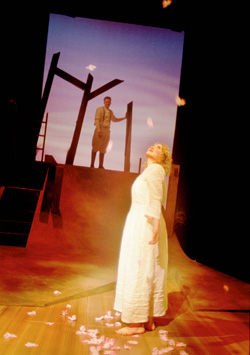 Mary's Wedding
, Alberta Theatre Projects March 2002
Sarah Smith and
Collin Doyle
Trudie Lee Photography
Mary's Wedding by Stephen Massicotte was one of four mainstage productions premiered by playRites '02, Alberta Theatre Project's annual festival of new plays. It is a moving, lyrical two-hander, with a flexible use of dream-time that takes the action into a broad historical dimension in terms of a relationship between a young farmer and a recent English immigrant to Canada. It begins on the evening before Mary's wedding in 1920, and tracks back to show her first meeting with Charlie, their growing attraction, and his departure for the war. The war scenes are intercut with the love scenes, one dimension of time informing the other to suggest that Mary is dreaming Charlie's horrific experiences in the trenches, just as he is dreaming his memory of her. Remembering their love is her way of saying goodbye, although this love will always inform her life.
The play opens with the young Charlie introducing himself candidly to the audience: "Hello, out there. Thank you for coming. Before we begin, there is something I have to tell you. Tonight is just a dream. I ask you to remember that. It begins at the end and ends at the beginning. There are sad parts. Don't let that stop you from dreaming it too." He in effect invites the audience to participate in his story, as it intersects with that of Mary. They meet during a thunderstorm, which anticipates the shell barrage that Charlie will endure during the war. The romantic proclivities of both are tested by reality: Charlie will indeed perform a "Charge of the Light Brigade" into death at Morieul Wood, and Mary will be tempted to perform the Lady of Shalott. Mary's Wedding does not succumb to sentiment, however. It shows how memory informs the present, and how it becomes a means of survival.
Charlie's relationship with his sergeant and mentor, Gordon Muriel Flowerdew, provides another means of survival. The role of Flowerdew is played by the actress who plays Mary, suggesting that Charlie's sweetheart informs even his interaction with other men. The character of Flowerdew is historically based: he was awarded a posthumous Victoria Cross for leading the last cavalry charge in military history. On March 30, 1918, Lord Strathcona's Horse played a critical role in one of the last German offence attempts of WWI and held back advancing enemy forces at Moreuil Wood in France. Nearly half the 100 men in the C Squadron were killed.
The play requires a simple but evocative set design that imagines the prairie landscape, a barn where the couple meets and where Mary remembers, and the trenches in which Charlie comes to terms with his role as a killer of other young men. The soundscape counterpoints the thunder which terrifies Mary, and the guns of war.
In his program note for the ATP premiere, Massicotte accounts for the origins of the play in a failed relationship:"So this was going to be a war play. However, I was in love when I wrote it and I thought it was more of a love to end all loves. This is not that love story but the more I loved her, the more Mary and Charlie loved each other. The more I longed to return to her, the more they longed to return to each other. So the war play became a love story. I wrote it to forget her and to get her back and to remember her and to let her go."
The writing of the play was also influenced by the stories of two women that Massicotte heard about, but never met, who grieved the deaths of their loved ones in WWI for the rest of their lives, and never married.
Mary's Wedding won the Alberta Playwriting Competition in 2000, and its evolution provides an insight into the way in which Canadian plays come to fruition: it was written with the assistance of the Alberta Foundation for the Arts, performed at Workshop West's Springboards New Play Festival in Edmonton, workshopped at the 2001 Banff playRites Colony, and presented as a Platform Play at playRites in 2001. It evolved in yet more rehearsal rewrites under the watchful eyes of ATP dramaturge Vanessa Porteous and director Gina Wilkinson. It has since been produced many times in theatres across Canada, including the National Arts Centre (directed by Marti Maraden), and in the United States, England, and Scotland. About its first Toronto production in 2019, by Solo Productions (dir. Kent Staines), critic J. Kelly Nestruck writes: "It sweeps you away with poetry – both the playwright's, and the Tennyson poems that his characters read and love (The Charge of the Light Brigade; The Lady of Shalott). But then it makes you consider the thin line between poetry and propaganda – and how romance stories can warp romance in real life" (Globe & Mail 7 Feb 2019).
In 2011 it was adapted as an opera by the Pacific Opera Victoria, and performed at the McPherson Playhouse in November. The composer was Andrew Paul MacDonald, the director/dramaturg was Michael Shamata. In 2020, Mary's Wedding was adapted for Metis characters by Tai Amy Grauman, directed by Jenna Rodgers, with Grauman as Mary and Todd Houseman as Charlie, for production at the Citadel Theatre.
Mary's Wedding is published by Playwrights Canada.
Commentary by Anne Nothof, Athabasca University
Last updated 2021-01-04