McCormack, Eric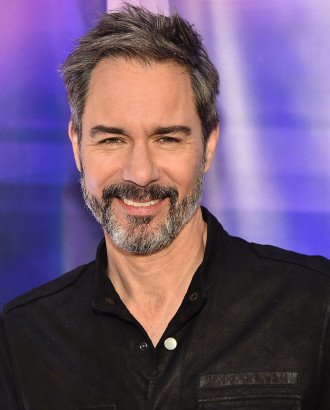 Eric McCormack
Photogenic actor, born in Toronto, Ontario in 1963, and catapulted into stardom in 1998 with the launch of the NBC sitcom series and surprise hit Will & Grace (1998-2006, rebooted 2017-20). Eric McCormack played Will, a gay lawyer, who allows his best friend Grace, an interior designer, to stay in his house for a temporary period after her marriage falls apart; and she becomes a permanent roommate. He won an Emmy in 2001 for his role.
Eric McCormack attended Sir John A. Macdonald Collegiate Institute in Scarborough, Ontario, where he enrolled in theatre classes and performed in high school productions of Godspell and Pippin. He studied at Ryerson University, leaving in 1985 to join the ensemble of the Stratford Festival until 1989, when he decided it was not his destiny to play Hamlet. At Stratford, he performed in Cymbeline (1986), Cabaret (1987), Richard III (1988), and A Midsummer-Night's Dream (1989), among others. After thirty years, he returned to Stratford to perform in a concert version of The Fantastics at the Avon Theatre.
He also performed at Royal Alexandra Theatre (Biloxi Blues, 1988); Canadian Stage (The Dreamland by Raymond Story and John Roby, 1991); Arts Club Theatre (The Passion of Dracula, 1996); as well as at Theatre New Brunswick, Manitoba Theatre Centre, and Citadel Theatre. In summer, 2001, he played the lead in The Music Man on Broadway.
McCormack made his film debut in the 1992 science-fiction adventure film The Lost World. Since then, he has appeared in numerous American television series, including Top Cops, Street Justice, Lonesome Dove: The Series, Townies, and Ally McBeal. He produced and acted in the Netflix series, Travellers, and played an eccentric university art professor in the Netflix 3-episode series, Atypical (2019).
In April 2020, when the Covid-19 pandemic had closed theatres around the world, he participated in "Stronger Together: Tous Ensemble" (streamed internationally via CTV.ca), featuring Canadian celebrities to raise funds for front-line workers and food banks. In October 2021, when theatres were beginning to open again, he performed in Follies in Concert, a gala fundraiser for Koerner Hall presented by the Royal Conservatory of Music, playing the role of Buddy in a concert presentation of the 1971 Sondheim musical (dir. Richard Ouzounian).
McCormack has duel Canadian and American citizenship, and lives in Los Angeles and Vancouver with his wife, Edmontonian Janet Leigh Holden, with whom he has a teenage son.
Information provided by Gretchen Kast; and J. Kelly Nestruck, Globe and Mail, 12 Oct 2021. Updated by Anne Nothof.
Last updated 2021-10-13