Metcalfe, Robert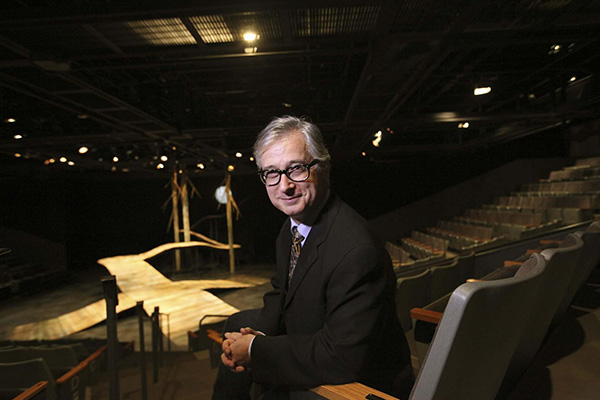 Robert Metcalfe. Photo by Ruth Bonneville, Winnipeg Free Press
Artistic Director of Prairie Theatre Exchange for fifteen years, from 2003 to 2018, the longest-serving AD of that Company. Robert Metcalfe studied theatre at Studio 58 Langara College in Vancouver from 1977 to 1980, and was AD of Sunshine Theatre Company, a professional summer theatre in Kelowna, from 2001-2005. For PTE, he has directed two dozen plays, including The Dishwashers (2013) and Vigil (2014) by Morris Panych; The Gravitational Pull of Bernice Trimble by Beth Graham (2016); The Flats by Winnipeg playwright Ginny Collins, in a bilingual world premiere with Théâtre Cercle Molière (2017).
Metcalfe was presented with the Queen Elizabeth II Diamond Jubilee Medal in recognition of "his outreach to the community with made-in-Manitoba plays and his valuable contributions to Winnipeg's theatre and performing arts community, particularly as Artistic Director of PTE."
He was also honoured with the Bra D'Or (Golden Bra) award, given annually by the Playwrights Guild of Canada's Women's Caucus for his support of female playwrights, having produced fifteen plays by women playwrights in the last six years of his tenure at PTE.
Metcalfe believes that "by telling stories in an intimate and honest way, the foundation of the community is strengthened. Theatre that provides a shared experience and a deeper understanding of what it is to be human can help foster tolerance" (PTE website).
He currently lives in Vancouver with his wife, Miriam Smith.
Profile by Anne Nothof, Athabasca University.
Last updated 2021-05-10