Needles, William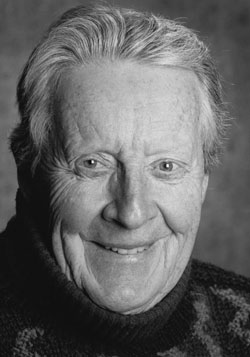 William Needles
Actor and educator, born in 1919 in Yonkers, New York, and raised in Kitchener Ontario; died in 2016 at the age of 97. His father, Ira Needles, was president of BF Goodrich Canada, and was instrumental in the founding of the University of Waterloo. William Needles was educated at the Goodman School of Drama in Chicago, in defiance of his father's wishes that he go into business. After serving in WWII, he performed in Toronto, first in radio drama and then television.
He is perhaps best known for his five-decade association with the Stratford Festival (since its founding in 1953 with Tyrone Guthrie), and has acted with eight artistic directors at the Festival. He has appeared in over one hundred roles with the company, among which are Albany in King Lear (1964 and 1972); the Duke of Venice in The Merchant of Venice (1996); the White King in Alice Through the Looking Glass (1996); the Lord Mayor in Richard III (1997); the Shepherd in Oedipus Rex (1997); Merriman in The Importance of Being Earnest (2000); Mortimer in Henry VI: Revenge in France (2002).
Although a skilled Shakespeare actor, he gave memorable performances as the Inquisitor in Saint Joan by Bernard Shaw, and the Chaplain in Mother Courage by Bertolt Brecht (1964).
He played on stages across Canada, including the Manitoba Theatre Centre, and in London and New York.
He was a founding member of the Actors Fund of Canada, which supports actors in financial need. In 2002, he was named Member of the Order of Canada. He held an Honorary Doctorate from the University of Waterloo, and a Master Teacher Cum Laude from the University of California, Irvine. In 2012 he was the recipient of a Queen's Jubilee Medal.
His daughter is arts administrator, Jane Needles and his son is playwright Dan Needles.
Critic Harry Lane commended his performances for their "apparently effortless intellectual and moral authority, combined with ironic playfulness and rich vocal sensitivity."
Sources: Harry Lane. "Needles, William." Oxford Companion to Canadian Theatre. Eds. Eugene Benson and L.W. Conolly. Toronto: Oxford UP, 1989; Stratford Festival of Canada 50th Anniversary Souvenir Programme, 2002.
Profile by Gaetan Charlebois and Anne Nothof.
Last updated 2016-09-15