Sears, Djanet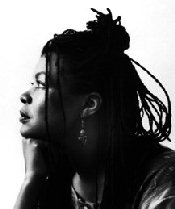 Djanet Sears
Toronto Ontario-based playwright, director and actor born in London, England in 1959. Her family moved to Saskatoon, Saskatchewan when Djanet Sears was 15, then settled in Oakville, Ontario in 1975.
She came to national and international attention with her work Afrika Solo (Factory Theatre, 1989, subsequently produced for CBC Radio, 1990, published by Sister Vision Press), and which won the International Armstrong Award for Outstanding Radio Play (1991) and Silver Prize at the International Radio Festival of New York.
Harlem Duet, 1998 (Sirocco Press), was the winner of the Dora Mavor Moore Award, Chalmers Award and Governor General's Award (and was revived at Neptune Theatre in April 2000, and at the Stratford Festival for the 2006 season, under the direction of Djanet Sears.)
She has also won a Harry Jerome Award and a Phenomenal Woman of the Arts Award.
Other plays include: The Adventures of a Black Girl in Search of God, premiered at the duMaurier Theatre, Toronto, 2002, directed by the author; Who Killed Katie Ross (as part of Stolen Lands), Ground Zero Productions, 1995, directed by Steven Bush and Monique Mojica; The Mother Project (with Sangoma, The Women's Co.), Crossroads Theatre, New Brunswick, 1991, Sydne Mahome); Double Trouble, Toronto Workshop Productions/TWP, 1988, Pierre Tetrault.
In a program note for the Nightwood Theatre production of Harlem Duet, Djanet Sears gives "32 sHORT reasons wHY [she] wRITE[s] fOR tHE theatre:
1 Carved from that same tree
in another age
counsel/warriors who
in the mother tongue
made drums talk
now in another tongue
make words to walk in rhythm
'cross the printed page
carved from that same tree
in another age
Khephra
Talking Drums #1
These reasons also include talking to Derek Walcott, Nigerian playwright and poet, about why he writes; witnessing the birth of her sister's baby, and wondering how she would come to know herself in Canada, "blinded by the glare of snow"; seeing Ntozake Shange's For Coloured Girls Who Have Considered Suicide When The Rainbow Is Enuf in New York, the first stage production by a writer of African descent she had seen, and vowing that this would not be the fate of her niece: "She must have access to a choir of African voices, chanting a multiplicity of African experiences. . . . I too must become an organ and add my perspective, my lens, my stories, to the ever growing body of work by and about people of African descent."
For Sears, playwriting is a labour of love, not unlike the experience of giving birth – but giving birth to herself, dreaming herself into existence. She claims black American playwright, Lorraine Hansberry (1930-65) as her "mother" in the theatre. A Raisin in the Sun (1959) was the first play on Broadway by a black woman, portraying the struggles of a black family living in poverty in a Chicago ghetto.
In 1993, Sears developed a blueprint for an evening of readings, performances, and discussions about black theatre in America which she entitled Negrophilia: An African American retrospective: 1959-1971. The theatre studio spaces in which it was performed were renamed Obsidian, Onyx, and Jet. This became the basis for Obsidian Theatre Company, a collective of Black writers from diverse backgrounds, with a mandate to develop and produce Black theatre in Toronto.
Djanet Sears is an adjunct professor at University College, University of Toronto, and the driving force behind the AfriCanadian Playwrights Festival, a celebration of African diasporic writing for the Canadian stage, held in Toronto in 2003 and 2006. She is the editor of a two-volume collection of African Canadian plays, Testifyin': Contemporary African Canadian Drama (2000), and Tellin' It Like It Is: A Compendium of African Canadian Monologues for Actors (2000).
Profile by Anne Nothof, Athabasca University. Additional information provided by Catherine Matzig and Joel Greenberg.
Last updated 2021-10-05