Sears, Djanet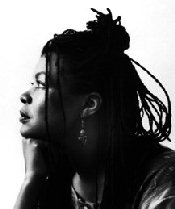 Djanet Sears
Toronto Ontario-based playwright, director and actor born in London, England in 1959. Her family moved to Saskatoon, Saskatchewan when Djanet Sears was 15.
She came to national and international attention with her work Afrika Solo (Factory Theatre, 1989, subsequently produced for CBC Radio, 1990, published by Sister Vision Press), and which won the International Armstrong Award for Outstanding Radio Play (1991) and Silver Prize at the International Radio Festival of New York.
More recently, her Harlem Duet, 1998 (Sirocco Press), was the winner of the Dora Mavor Moore Award, Chalmers Award and Governor Generalís Award (and was revived at Neptune Theatre in April 2000, and at the Stratford Festival for the 2006 season, under the direction of Ms Sears.)
She has also won a Harry Jerome Award and a Phenomenal Woman of the Arts Award.
Other plays include: The Adventures of a Black Girl in Search of God, premiered at the duMaurier Theatre, Toronto, 2002, directed by the author; Who Killed Katie Ross (as part of Stolen Lands), Ground Zero Productions, 1995, directed by Steven Bush and Monique Mojica; The Mother Project (with Sangoma, The Women's Co.), Crossroads Theatre, New Brunswick, 1991, Sydne Mahome); Double Trouble, Toronto Workshop Productions/TWP, 1988, Pierre Tetrault.
Djanet Sears is an adjunct professor at University College, University of Toronto, and the driving force behind the AfriCanadian Playwrights Festival, a celebration of African diasporic writing for the Canadian stage, held in Toronto in 2003 and 2006. She is the editor of a two-volume collection of African Canadian plays, Testifyin': Contemporary African Canadian Drama (2000), and Tellin' It Like It Is: A Compendium of African Canadian Monologues for Actors (2000).
(Information provided by Catherine Matzig and Joel Greenberg)
Last updated 2020-07-17