Talk Is Free Theatre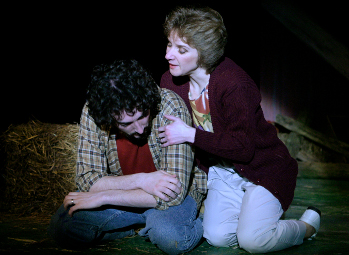 Mike Nadajewski and Glynis Ranney in Harvest Moon Rising by Leslie Arden and Peggy Sample. Directed by Tim French. Photo by Susan Benoit.
Talk Is Free Theatre (TIFT) is an artist-driven company, based in Barrie, Ontario. Its mandate is to encourage the emerging artist community by producing a wide range of ensemble-based, off-centre, inventive and rarely produced programming. Its mission is to address the well-being of local youth by involving them in the core of all of its activities; to break barriers in order to encourage wide public participation and access; and to build a distinct local professional artistic community by providing increased opportunities to local professional artists. Through its artistic work, community involvement and business innovation, its goal is to develop a unique, vibrant and internationally recognized cultural identity for the city of Barrie.
TIFT was formed in Toronto in 2001 by Arkady Spivak, its current Artistic Producer, and six actors. Its goal was to follow the European repertory theatre tradition, challenging an ensemble of actors, rather than producing work strictly on the merits of the script. Its production approach was not to explore one given style, form, or issue, but to focus primarily on the creation of a strong, like-minded creative ensemble capable of tackling anything from experimental drama to musical comedy.
While in Toronto, TIFT produced three full-scale productions, most notably an absurdist Russian comedy Christmas at the Ivanovs, which received a Dora nomination for Outstanding Production in Independent Theatre Category. TIFT operated on a project basis in its early Toronto days.
In 2002, TIFT relocated to the city of Barrie to achieve better positioning for its artistic vision, while serving the community's evolving cultural needs. It was subsequently incorporated as a Barrie-based, not-for-profit, charitable organization, having fully retained its original mandate. TIFT has been producing full seasons since its relocation. The production priority has been Canadian musical theatre, neglected works from classical and contemporary repertoire, and local artistic activity.
Canadian theatre productions include: Carol Bolt's One Night Stand (2004); Daniel MacIvor's This Is a Play; the world premiere of Redemption by Barrie playwright Sara Zubiak; the musical Emily (2006), with book and lyrics by Richard Ouzounian, adapted from the novels of Lucy Maud Montgomery, and directed by Ouzounian.
In 2020, when theatres across Canada and the world were closed by the Covid-19 pandemic, Talk is Free collaborated with Outside the March to produce Something Bubbled, Something Blue. Through music, choreography, live art, and using inflatable Zorbs as personal bubbles, the performance piece celebrated a wedding, despite the physical restrictions. The National Arts Centre selected the show as as one of its "Grand Acts of Theatre," "a collection of Canada's most innovative arts companies pushing the boundaries of tradition to create bold new experiences that connect people in unique ways" (website). Something Bubbled, Something Blue had 1.8 million on-line viewers. In August 2021, the Company put on a semi-staged production of Stephen Sondheim's Into the Woods in the woods of Spring Water Provincial Park.
In 2022, the Company's production of Sweeney Todd led the Dora Mavor Moore Awards for Musical Theatre with five Doras from thirteen nominations.
TIFT has also toured its productions. Staged on a moving city bus, Tales of an Urban Indian premiered in 2009 and has toured across Canada and internationally, celebrating its 500th performance in Brisbane, Australia in 2019 as part of Yirramboi Festival, Australia's First Nations arts and cultural event. Other tours include Possible Worlds to Munich, Assassins (Manitoba Theatre Centre), The Wedding Party (National Arts Centre), and The Tale of Ivan vs. Ivan to Serbia, England and Russia. In 2020, TIFT toured site-specific productions of Every Brilliant Thing, For Both Resting and Breeding, and Tales of an Urban Indian to Adelaide, Australia, where Every Brilliant Thing was awarded Best Production in the theatre category. More recently the Company engaged in a bold immersive experience for audiences: The Curious Voyage was a 3-day long journey, beginning in Barrie and taking the audience to London, England (website).
Artists who have worked with TIFT include Leslie Arden, Jay Turvey, Glynis Ranney, Susan Gilmour, Aleksandar Lukac, Dusan Dukic, Marek Norman, Jeannette Lambermont, Avery Saltzman, Timothy French, Maja Ardal, Jennifer Stewart, Mike Nadajewski, Joey Miller, Jim Betts, Diana Leblanc, Marti Maraden, Lucy Peacock, and Jean Yoon.
Source and Website: www.tift.ca
Last updated 2022-09-22