Wasserman, Bryna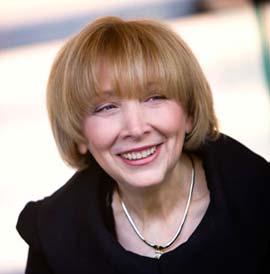 Bryna Wasserman, Artistic Director. Photo by Paul Ducharme, courtesy of Segal Centre
Montreal-based director, born in Vienna, artistic director of the Yiddish Theatre and of the Saidye Bronfman Centre (now Segal Centre for Performing Arts) from 1998 to 2011.
She grew up around productions at the Yiddish Theatre, which her mother, Dora Wasserman, founded and directed until suffering a stroke in 1996.
Bryna Wasserman studied at the Tisch School of Fine Arts (NYU) before working at theatres around the world including the Vivian Beaumont at Lincoln Centre, Mercer Street, Vancouver Opera House, American Place and four seasons at the Folksbiene Playhouse. Among her New York credits are Arrabal's The Architect and the Emperor of Assyria, The Karl Marx Play, Narrow Road to the Deep South, Wözzeck, The House of Bernarda Alba and Bernstein on Broadway.
Among the productions she has directed at the Yiddish Theatre are Mirele Efros, The Sages of Cheim, The Apprenticeship of Duddy Kravitz, The Threepenny Opera (2001), The Dybbuk, Old Wicked Songs, and Lies My Father Told Me (2011).
An ideal director of large-cast community theatre (including the huge The Great Houdini - March, 2000), Bryna Wasserman has also proven herself a subtle, thoroughly professional and intelligent director of small drama (Wicked...). She is also supportive of developing artistic talent and to this end has directed Young Actors for Young Audiences and includes emerging theatre professionals in all her productions.
She instituted a series of exciting initiatives for her 1999-2000 season as head of the SBC, including bringing in Soulpepper Theatre Company, housing Bill Glassco's new Montreal Young Company at the Centre, and co-producing with Winnipeg Jewish Theatre. In 2009 she launched the Montreal International Yiddish Festival.
In 2011, Bryna Wasserman relocated to New York, to take up an appointment as executive director of the 96-year-old Folksbiene Yiddish Theatre - the oldest theatre company (Yiddish or English) in New York. However, she returns regularly to Montreal to direct productions at the Dora Wasserman Yiddish Theatre.
She received the Montreal English Critics Circle Award for distinction, and her production of Houdini... won the award for best production, amateur or semi-professional. In May 2010, she was awarded the Mlotek Prize for Yiddish and Yiddish Culture, at the Lincoln Centre, New York.
Profile by Gaetan Charlebois.
Last updated 2016-12-09