Wellwood, Ric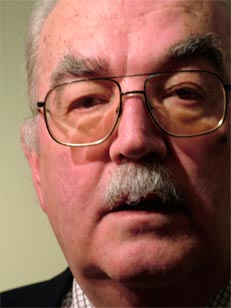 Ric Wellwood
Theatre critic and playwright, born in Chatham Ontario, Ric Wellwood began a 50-year relationship with theatre at the Chatham Little Theatre. He graduated with a BAA in Radio and Television Arts from Ryerson University with further studies in English, Drama and Film at Wilfrid Laurier University and the University of Western Ontario.
A longtime member of the Canadian Theatre Critics Association, he has been reviewing professional Canadian theatre for close to fifty years, beginning in 1967 with the Stratford Festival, continuing in 1970 with the Grand Theatre, London and the Shaw Festival since 1974. He has also reviewed on Broadway and Boston in 1972, London/s West End, Dublin, Dundalk and Edinburgh in 1982.
He is the author of a dozen plays: Exile was produced at the Grand Theatre's McManus Studio in 1982, directed by Tom Bentley-Fisher and starring Bernard Hopkins. In the following season, Sting Like a Butterfly was directed by Charles McFarland at the McManus Studio. Wellwood has written four teleplays and won two Gold and Two Silver Awards from CanPro in writing and direction for Canadian television drama. He has also written Playwrights, a compendium of interviews with thirty-five successful playwrights of the twentieth century.
Under the direction of Paul Eck, Wellwood took his acclaimed one-man show Leacock at Leisure to more than a dozen performing centres in Ontario in the 1980s, including the Blyth Festival and Toronto's Harbourfront Theatre. He reprised the role at the Roy Thompson Hall in 2005.
Last updated 2012-11-09