Wyatt, Rachel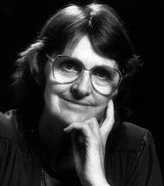 Rachel Wyatt
Alberta-based playwright, novelist, and short story writer. For many years she was Director of Writing at the Banff Centre for the Arts. She was born in Bradford, England, in 1929 and immigrated to Canada in 1957.
She has written many plays for BBC and CBC radio, including a moving work based on the Inuit myth of Sedna called Inukshuk; and has taught English to Inuit teachers in the Arctic.
Her plays include: Knock, Knock (Alberta Theatre Projects playRites festival, 2000, directed by Peter Smith); Crackpot (ATP, 1995, Martie Fishman, subsequently presented in Philadelphia, Prairie Theatre Exchange, Belfry Theatre, these last two productions directed by Allen McInnis); Getting Out; Confinement; There to Meet Her; Cath's Cradle; Still Live(short plays, ATP, 1991-94, Bob White); Chairs and Tables (Tarragon, 1984, Eric Steiner); Geometry (Tarragon, 1983, Stephen Katz).
She was awarded the Order of Canada in 2002, and the Queen's Jubilee Medal in 2003.
She has four children.
Last updated 2009-09-15