Brebner, Morwyn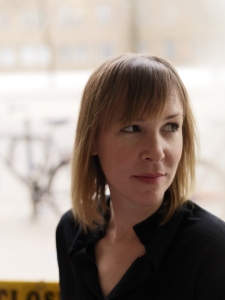 Morwyn Brebner
Playwright, based in Toronto Ontario. She was born in Cardiff, Wales, and grew up on Ottawa. She is a graduate of the National Theatre School of Canada's playwriting program. She was playwright-in-residence at Tarragon Theatre from 2000 to 2012, and most of her plays have premiered there. She married playwright Michael Healey in 2010.
Morwyn Brebner's first play, Music for Contortionists, was co-produced by Tarragon Theatre and the Shaw Festival in 2000 and nominated for a Dora Award and a Chalmers Award. Other plays at Tarragon include Liquor Guns Karate, and Little Mercy's First Murder (co-produced with Shaw, with composers Jay Turvey and Paul Sportelli). It won six Dora Awards, including outstanding new musical.
The Optimists was first produced at Theatre Junction in Calgary in 2004 (dir. Eda Holmes). A philosophical comedy, it portrays two couples who meet for a wedding in Las Vegas. Although the men are childhood friends, as adults they have very different lives and perspectives: one is an oncologist in a fraught marriage with a psychiatrist; the other a car salesman with a gambling addiction, intent on marrying a much younger woman. Despite their class differences, and their apparently incompatible relationships, optimism prevails. The play explores "the vicissitudes of love and the difficulty of reconciling hope with experience" (Toronto Life Oct 2005). Brebner asserts the need for hope and faith in contemporary society: "I like that Antonio Gramsci quote, which sounds clichéd, about pessimism of the intellect and optimism of the spirit. I think it's too simplistic these days to be cynical. Nihilism is as unnuanced and as foolish as Pollyanaish optimism." (quoted in Now Magazine Sept 2005). The 2005 Tarragon production was also directed by Eda Holmes, with Michael Healey, Randy Hughson, Holly Lewis and Sarah Orenstein in the cast.
Morwyn Brebner provided a dialectical response to The Optimists in The Pessimist, a more optimistic play about redemption, which premiered at the Tarragon Theatre in 2007, directed by Eda Holmes. A dying theatre director sets his last play in the garbage dump of a small Ontario town.
"I think I'm drawn to characters who are able to exist in a certain duality, where they're conscious of their own absurdity, and yet incapable of not being themselves. I'm like that. I know that I'm ridiculous, and yet I continue to be ridiculous. And I think, "Is this really me?" And I guess it really is. I'm also drawn to people who feel at odds with the world, yet who are trying to find a way of reconciling themselves with living in this world that is so strange, and at times so intolerant. And I think a lot of this play was working out my philosophical position on the world (quoted in Now Magazine).
She believes that theatre should be argue with easy assumptions, and move beyond self-absorption:
"Audiences are hungry to be confronted with truth about the world. It's true. Playwrights are crazy not to want some of that action. Documentaries are in on that action. Music, novels, even TV. I truly believe that most writers write because they don't see themselves represented in the world. We write to remake the world in our image. But in order for playwriting to really be part of the cultural conversation in this country, we have to engage with more than just our own fixations."
In 2006 she adapted two Chekhov farces The Bear and The Proposal as Love Among the Russians for the Shaw Festival. For the 2008 season, she adapted a farce by Ferenc Molnár, entitled The President, remounted in 2011. She has translated three plays by Quebec playwright Evelyne de la Chenelière: Strawberries in January (playRites 2003), Bashir Lazhar (Tarragon Theatre, 2008), and Public Disorder; and Motel Hélène by Serge Boucher.
In 2011, her new play, Heartbreaker opened at Alberta Theatre Projects' playRites festival, directed by Vanessa Porteous. Initially inspired by Shaw's Heartbreak House, it is set in a psychiatrist's office, and then at a family cottage retreat, and scrutinizes the apparent indifferent response of the world to personal heartbreak by enacting the personal stories of a grad student named Eve as a process of psychoanalysis. Eve's father, an embezzler who has escaped imprisonment, and her sister, who insists on correcting her stories, are the means by which Eve finally exposes the reason for her heartbreak.
Morwyn Brebner was co-writer (with Ken Finkleman and Ellen Vanstone) of At The Hotel (2007) for CBC Television. She was co-creator of the television series, Saving Hope (CTV) and Rookie Blues (ABC/Global). Recently, she is creative "show-runner" for The Coroner (CBC).
Her plays are published by J. Gordon Shillingford Publishing.
Sources: Tarragon Theatre website and Now Magazine.
Profile by Anne Nothof, Athabasca University
Last updated 2020-05-12