Farhoud, Abla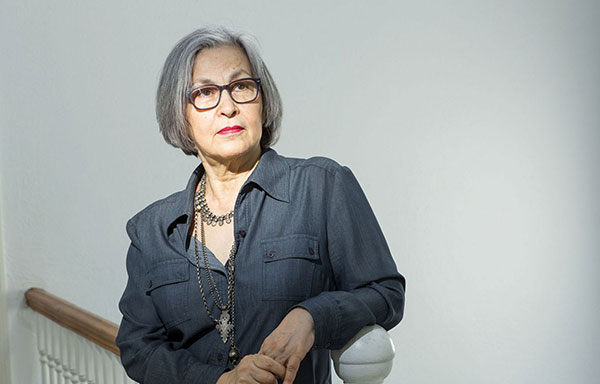 Abla Farhoud. Photo by Pedro Ruiz, Le Devoir.
Quebec-based actor/playwright born in Lebanon in 1945.
Abla Farhoud came to Canada in the 1950s and began acting at the age of 17, especially with Radio-Canada.
In 1965 she returned to Lebanon, then studied in Paris before coming back to Canada in 1973. Farhoud completed an M.A. in theatre arts from the Université du Québec à Montréal in 1985, and wrote her first play while studying. She was a member of the administrative council of the Centre des auteurs dramatiques in 1989-90.
Her latest play, Maudite machine, opened at the Théâtre du Rideau Vert, August, 2000 (directed by Louise Laprade).
Other plays include: Quand j'étais grande (Théâtre Expérimental des Femmes, 1989, translated by Jill MacDougall as When I Grow Up); Les filles du 5-10-15 (Théâtre de Quat'Sous, 1986, translated by MacDougall as The Girls from the Five and Ten; also produced in New York, Belgium and Limoges, France); and Jeux de patience (translated by MacDougall as Game of Patience).
A Game of Patience shows the devastating impact of war on two cousins from Lebanon who have immigrated to Canada. One is haunted by the death of her teenage daughter, shot in the streets of Lebanon, and the other attempts to recreate a voice for the girl which cuts through the complacency of a country far removed from the horrors of war. Farhoud's writing incorporates joual, colloquial Lebanese-Arabic, Arabic, and English.
She has also published six novels, the most recent being Le Dernier des snoreaux (2019).
Profile by Gaetan Charlebois.
Additional information from Louise H. Forsyth. "Introduction," Quebec Women's Plays (1987-2003). Toronto: Playwrights Canada Press, 2006.
Last updated 2020-12-01