Bassett, Karen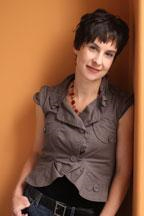 Karen Bassett
Actor, playwright, director, dramaturge, improviser, born in 1972 and based in Halifax Nova Scotia. Karen Bassett studied at Dalhousie University in the Professional Acting Program, and developed her writing skills through a decade of intensive training in improvisation with the physical theatre company the Irondale Ensemble Project, where she co-wrote and performed in dozens of new theatre productions.
She has written three plays as an independent playwright. Thrive (Eastern Front Theatre 2005), received a Merritt Award nomination for Best New Play in 2005. Heroine (BusStop Theatre 2010) is an action-filled feminist work set in the early 1700s, which features two women imprisoned in a Jamaica cell, and condemned to be hanged. It is based on the lives of Irish-American pirate, Ann Bonny, and British cavalry officer, Mary Read, who disguised herself as a man and fell in love with her commanding officer. Barry fights for independence and excitement, and Read for glory and honour, and they are ready to defend their very different values with their swords. Both, however, courageously resist the limitations imposed on them by a repressive society. Bassett acted Mary Read in the premiere production, a role which requires strong fighting skills, and a great deal of stamina. This production was also nominated for an Outstanding New Play Merritt Award. The Northern Light Theatre production in 2011 featured Lora Brovold and Natascha Girgis, both of whom demonstrated extraordinary prowess in sword fighting and acting.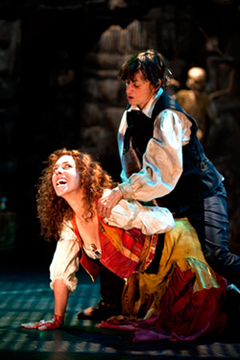 Heroine, Northern Light Theatre.
L.to R. Lora Brovold as Ann Bonny; Natascha Girgis as Mary Read.
Photo by Ian Jackson
A staged reading for young audiences of Lullaby: Inside the Halifax Explosion took place at BusStop Theatre in Halifax in 2017, under the auspices of Eastern Front Theatre.
As an actor, Karen Bassett has also performed for Neptune Theatre, Manitoba Theatre Centre, Eastern Front Theatre, 2b Theatre Company, Ship's Company Theatre, and Mulgrave Road Theatre. She was nominated in 2007 for a Merritt Award for outstanding performance in Mulgrave Road's production of By the Dark of the Moon.
She has also acted on TV, and in the CBC radio drama, Backbenchers by Wendy Lill.
She studied stage combat at the Rapier Wit School of Stage Combat, and has been a fight director for Ship's Company Theatre, Neptune Theatre, and Halifax Theatre for Young People.
She served on the board of the Playwrights Atlantic Resource Centre for four years.
Profile by Anne Nothof, Athabasca University
Last updated 2020-03-20