Canac-Marquis, Normand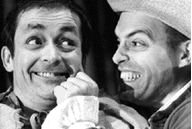 Quebec-based actor/playwright, and graduate of the Conservatoire d'Art Dramatique de Montréal in 1973.
He co-founded the Théâtre Parminou and worked with the Company until 1980.
Among the works in which he has performed are Gilmore, que vaut la vie d'un homme (Théâtre la Licorne, 1993), Les années/The Years (Théâtre de Quat'Sous, 1994) and Jacques et son maître (Théâtre les gens d'en bas, 1996).
His most widely produced play is Le Syndrome de Cézanne (premiered at Théâtre de la Rallonge, 1987, translated by Louison Danis as The Cézanne Syndrome). The play won him the award for best play from the Association québécoise des critiques de théâtre.
Normand Canac-Marquis's acting style is decidedly masculine and centred. His writing challenges traditional theatrical structure.
Profile by Gaetan Charlebois
Last updated 2020-04-17