Cardinal, Tantoo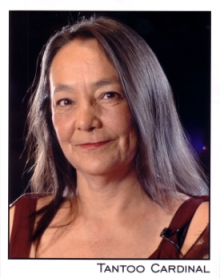 Métis actor, of Cree descent, born July 20, 1950 in Fort McMurray, Alberta. She was raised by her grandmother in the nearby community of Anzac, where she learned to create her own entertainment by playing alone in the bush, which she considers a "prep school" for her acting career. Her grandmother named her "Tantoo" after an insect repellent she used when berry-picking in the bush. At the age of 15, Cardinal left Anzac to attend Victoria Composite High School in Edmonton, where she studied drama. Her first acting role was in a TV docudrama about Father Albert Lacombe. She also appeared in the Workshop West Theatre Summerfest production of Gabriel - The Outlaw Hero by Gerry Potter.
Cardinal married a Mennonite mathematician at the age of 18, with whom she had a son before they divorced in 1976. One of her two other sons is the actor, playwright, musician Clifford Cardinal.
After living in Los Angeles and New England for many years, where she worked in film and TV in typically "Native" roles, she moved back to Canada – first to Calgary, then Vancouver. She is currently based in Toronto.
Tantoo Cardinal is widely-known and acclaimed for her film roles in Loyalties (1986, dir. Anne Wheeler); Dances with Wolves (1990); Black Robe (1991); Legends of the Fall (1994); Silent Tongue (1994, written and directed by Sam Shepherd); Where the River Flows North (1994); Smoke Signals (1998); Unnatural and Accidental (2006 dir. Carl Bessai and based on the play The Unnatural and Accidental Women by Marie Clements); Red Snow (dir. Marie Clements); Through Black Spruce, based on the novel by Joseph Boyden (2018, dir. Don McKellar); The Grizzlies (2019); and Falls Around Her, a film written for her by Indigenous filmmaker Darleen Napoose.
Her television credits include Big Bear (1999, based on the novel by Rudy Wiebe), Moccasin Flats and North of 60. In 2015, she received an ACTRA award of excellence for her more than 100 film and TV credits. Among many other awards for film and TV, are a Career Achievement Award from the Whistler Film Festival, and the Technicolor Clyde Gilmour Award from the Toronto Film Critics Association for lifelong contribution to Canadian film.
Her theatre credits include the title role in Jessica by Maria Campbell and Linda Griffiths (25th Street Theatre 1982); All My Relations by Floyd Favel (Catalyst Theatre 1990), for which she won a Sterling Award; and the role of the grandmother, Annie in Three Little Birds by Cree playwright Kenneth T. Williams (Workshop West Theatre 2008, dir. Vinetta Strombergs), with her son, Clifford Cardinal. In 2013 she played an Indigenous woman suffering the consequences of sexual abuse at a residential school who confronts an Anglican bishop in God and the Indian by Drew Hayden Taylor (Firehall Arts Centre, Vancouver). In 2018, she played Gertrude in a Tarragon Theatre production of Hamlet, a role which she compared to an emoji.
Tantoo Cardinal typically plays roles of strong, smart, and independent women. She has long been involved in Indigenous advocacy work, promoting the importance of self-expression and story-telling in Indigenous communities to advance fairness and equality. She has received five honorary degrees, including from the Universities of Calgary, Rochester, and most recently the University of British Columbia (2020). She has also been appointed as a Member of the Order of Canada, and in 2017 received an Earle Grey Award at the Canadian Screen Awards for her work in television. In February 2020, she was awarded a Governor General's Award for Lifetime Artistic Achievement.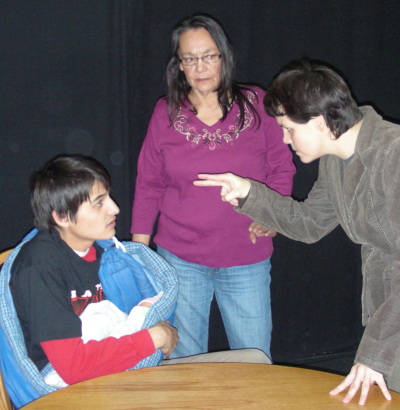 Three Little Birds, Workshop West Theatre, Nov. 2008
L. to R.: Clifford Cardinal as Troy; Tantoo Cardinal as Annie; Michaela Washburn as Kerry.
Photo courtesy of Workshop West Theatre
Profile by Anne Nothof, Athabasca University
Last updated 2020-12-04