Clinton, Robert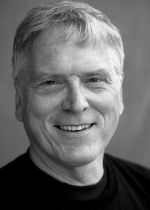 Robert Clinton
Playwright, actor, musician, born and raised in Regina, Saskatchewan. Robert Clinton is a graduate of the Acting Program of the National Theatre School of Canada. He has worked in theatre and music for forty-five years, and has performed in theatres throughout western Canada, including Workshop West Theatre (as Tom in Creeps, 1980). He has also acted in radio, television, and film.
After eight years in acting, he began his career in playwriting in Edmonton Alberta at the Edmonton International Fringe Festival with three plays: Mirage, Bandstand, and Editing Suite. He is a song-writer and musical director/sound designer for many of his plays.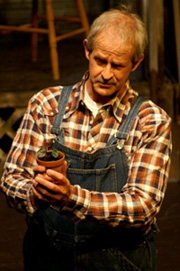 Morpheus Theatre
's production of
The Mail Order Bride
Greg Spielman as Harold English
Photo by Janet St.Germain
The Mail Order Bride premiered at Theatre Network in 1988. It has enjoyed 30 productions since, including at Blyth Festival 1989, remounted in 2009. A memory play, it presents the history of three generations of a prairie family, grappling with resentments and loss, but finally learning to accommodate the past. It was published by Blizzard in 1989 and has become a Canadian classic.
The Hometown Boy (Theatre Network 1993) is a modern morality play which takes place on Christmas Eve in a small, dying prairie town. The struggling owners of a cafe and garage are made an offer they cannot refuse by a sinister "traveller", and are saved by a "hometown boy", returning after a career as a country and western star, for which he has sold his own soul. It is a play about choice, and the importance of second chances and forgiveness. Other works include: All the World and Adventures in the Rouge Trade (Kaleidoscope Theatre); Ghost Light (New West Theatre 2008).
For four seasons Robert Clinton was playwright-in-residence at New West Theatre, and artist-in-residence for the Edmonton District Labour Council in 2004 and 2008.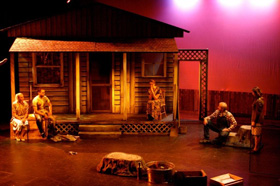 Morpheus Theatre's production of The Mail Order Bride
Photo by Janet St.Germain
He was six-time winner of First Prize in the Alberta Playwriting Competition, winner of the Theatre Canada/PetroCan Play Advancement Prize (with Kaleidoscope Theatre), and two-time winner of the Alberta Writer's Guild Drama Prize.
He has been an instructor in the University of Alberta Drama Department and maintains a thirty-year free-lance career as a guitar and music instructor. He has been a member and union-worker of Canadian Actor's Equity and ACTRA since 1977.
Source: Blyth Festival website
Profile by Anne Nothof, Athabasca University
Last updated 2020-11-06