Crombie, Jonathan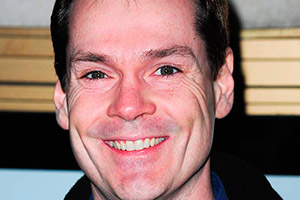 Jonathan Crombie
Ontario-based actor, born October 12, 1966 in Toronto, died April 15, 2016 of a brain hemorrhage at the age of 48 in New York City. Jonathan Crombie is probably best known for his work on television (specifically as Gilbert Blythe on the Anne of Green Gables series for CBC). His father was mayor of Toronto and a federal Progressive Conservative cabinet minister in the 1980s.
Crombie was discovered in the Lawrence Park Collegiate production of The Wizard of Oz by casting director/actor Diane Polley, who cast him as Gilbert Blythe, his first professional role. He studied at McGill University. He performed in sketch comedy and improv, and in several important theatre venues, including four seasons at Stratford Festival (the lead in Romeo and Juliet; The Taming of the Shrew, 1997; Orlando in As You Like It, 1996; The Comedy of Errors, 1995; Hamlet, 1994). For Canadian Stage and Manitoba Theatre Centre, he acted in Arcadia (1996), receiving a Dora Mavor Moore Award nomination. For the Grand Theatre, London, he appeared in Goodnight Desdemona (Good Morning Juliet), 1996). At Tarragon Theatre, he played in The Dishwashers by Morris Panych (2005) and The Oxford Roof Climbers Rebellion by Stephen Massicotte (2006).
Crombie played the lead role in The Drowsy Chaperone on Broadway in 2007, and for its subsequent tour. His final stage appearance was in Benediction at the Denver Theatre Center.
As an archetypal juvenile lead, he was a charming and focussed actor.
Profile by Gaetan Charlebois. Information provided by Linda Butler and Lindy Cooksey.
Last updated 2016-07-28