Czerny, Henry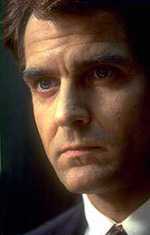 Henry Czerny
Actor and international film and television star most noted in Canada for his performance as a pedophile religious Brother in the TV film, The Boys of St. Vincent. He was born in Toronto,Ontario in 1959, to Polish immigrants of Czech descent.
After performing in musical theatre in high school, he spent a summer at the Banff Centre for the Arts. Henry Czerny studied at York University for one year before entering the National Theatre School of Canada, graduating in 1982. He then spent two seasons at the Stratford Festival acting in Not About Heroes and Richard Monette's production of Shakespeare's Taming of the Shrew. When offered a third season, he turned it down and went on to perform in the Canadian production of the feminist theatre work, Trafford Tanzi in England, and then in Canada at the Citadel Theatre . He continued to act on stage until the success of The Boys of St. Vincent when he more frequently appeared in movies.
"There really isn't one method," the actor told Saturday Night magazine, "I have a hodgepodge of things I use depending on the project."
Henry Czerny lives in Venice, California.
Profile by Gaetan Charlebois.
Last updated 2020-11-18