Dancing Sky Theatre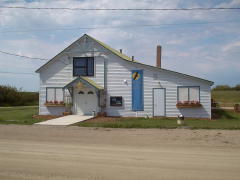 Dancing Sky Theatre
Theatre company, located in a renovated Ukranian hall in the small village of Meacham Saskatchewan, about 67 kms east of Saskatoon. It was founded in 1997 by Angus and Louisa Ferguson to produce new and established Canadian work. Since then, it has mounted 47 Canadian productions, including 34 world premieres, and 16 works developed through collective creation. Twelve of its productions have gone on tour.
Its mandate is "to involve people in the lively act of theatre," and "to empower children, youth and all people by helping them to recognize issues in their lives and by opening a space in which they can actively shape the culture around them."
Dancing Sky Theatre produces two or three plays each season, running from Thursday to Sunday. Friday and Saturday performances include supper, and the Sunday performance include lunch.
Productions include Billy Bishop Goes to War by John Gray (1997); Salt-Water Moon by David French (1998); Life After Hockey by Kenneth Brown (1998); The Shipbuilder by Ken Mitchell (1999); Days By The Radio by Dancing Sky Theatre Collective (1999); The Black Bonspiel of Wullie MacCrimmon by W.O. Mitchell (2000); Street Wheat by Mansel Robinson (2001, Commissioned by Dancing Sky Theatre); Mary's Wedding by Stephen Massicotte (2004); Horse High, Bull Strong, Pig Tight by Ken Stetson (2005); The Last Wind Walkers by Catherine Harrison (2009).
The current Artistic Director is Angus Ferguson. In 2014, he was awarded the Lieutenant Governor's Award for Leadership in the Arts; only one such award is given annually and it is for all artistic disciplines.
In her study of revitalized prairie villages, Herbert Has Lots for a Buck (NeWest Press 2012), Elizabeth McLachlan points to the success of Dancing Sky Theatre in Meacham:
"Today Dancing Sky Theatre is the consummate expression of Meacham's focal evolution from agriculture to the arts. More than the merging of humour and pathos symbolized by the comedy and tragedy masks of live theatre, it represents the melding of opposing elements: rural and urban, amateur and professional, contemporary and classic, past and future... The professional theatre is often a launching point for up-and-coming actors. They perform the classics but there is also a major focus on drama that reflects local and rural issues. Since these plays are hard to come by, Dancing Sky Theatre regularly commissions work from Saskatchewan and Canadian playwrights."
Website: www.dancingskytheatre.com
Profile by Anne Nothof, Athabasca University
.
Last updated 2020-06-05