Danckert, Paula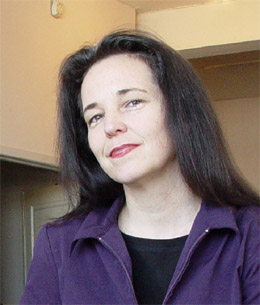 Paula Danckert
Dramaturg, director, and radio producer, currently based in Ottawa Ontario. In the past twenty years, Paula has worked as director and dramaturg at theatres from coast to coast, including the Playwrights Theatre Centre in Vancouver, and the National Arts Centre.
She completed her theatrical training at the National Theatre School of Canada directing program and McGill University, and enrolled in a PhD program at the Drama Centre, University of Toronto in 2015.
Paula Danckert was Associate Dramaturg at Playwrights' Workshop Montreal from 1987-1989. In Halifax, she was Associate Producer for Live Art Productions: New Dance Series, a foley artist for Salter Street Films, and the producer and host of the programme Artspeak on CKDU-FM. She was president of Playwrights Atlantic Resource Centre, and CBC radio's drama producer for the Maritime region for four years.
She was the Artistic Director of Playwrights' Workshop Montreal from 1998 to 2007, where she brought a greater emphasis on critical dramaturgy, on getting new plays to production, on support for playwrights across the country, and on translation. Half of her time was spent travelling across Canada to work with playwrights. The other half was spent in Montreal, bringing playwrights and dramaturgs together from all over the country. In Montreal, she has also taught courses in radio drama and playwriting at the National Theatre School of Canada. She has also been the Programme Dramaturg for the PlayRites Colony at the Banff Centre for the Arts
Paula has worked as dramaturg with the following writers and scripts: Marie Clements' Women in Fish and Burning Vision (nominated for a Governor General's Award), Peter Hinton's The Swanne (parts I, II and III) produced at the Stratford Festival, and The Pope and Princess Di by Berni Stapleton. She was the dramaturg on the new opera, Missing (librettist Marie Clements, composer Brian Current), which played in Vancouver and Victoria in 2017. She was story editor on the film, The Road Forward/i>, written and directed by Clements, which screened internationally. From 2012-2014 she was the Foley Artist and Assistant Director on an adaptation of Dylan Thomas's Under Milkwood, a new opera written and composed by John Metcalf which toured Wales.
Profile by Peter Boychuk
Last updated 2020-06-05