Davies, Geraint Wyn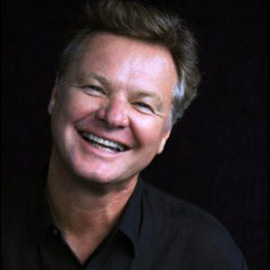 Geraint Wyn Davies
Actor born in Swansea, Wales, in 1957. His father was a minister, his mother a teacher.
Geraint Wyn Davies studied at Upper Canada College and at Western University where he first performed. He then performed at Quebec City's Summer stock Playhouse (The Fantastiks, A Midsummer Night's Dream) and decided to follow a career in theatre.
He has since performed in the US, the UK, and Canada in a wide range of theatres and roles. For Young People's Theatre, he appeared as Dracula in Count Dracula (1981) among others. For the Shaw Festival, as part of the repertory company, he played major roles in Misalliance (1980), The Music Cure (1982), Candida (1983), The Vortex (with Frances Hyland, 1984), and Goodnight Disgrace (1985) among others. At the Grand Theatre, London, he acted in Ring Round the Moon (1985). In the Royal Alexandra Theatre, he played the title role in Cyrano de Bergerac (1984) (which he has reprised in other productions), and in Sleuth (1987).
His fifteen seasons at the Stratford Festival include performances in Pericles, The Boys From Syracuse, The Three Musketeers, Richard III, all in 1988; The Merchant of Venice and Henry V in 1989; Polonius (2008) and Claudius (2015) in Hamlet; Duncan in Macbeth, Caesar in Julius Caesar, Bottom in A Midsummer Night's Dream, all in 2009; King Arthur in Camelot and Falstaff in The Merry Wives of Windsor, both in 2010; Antony in Antony and Cleopatra and Cook in Mother Courage (2015); and Sir Peter Teazle in The School for Scandal (2017). Of his performance as the exploited husband in Sheridan's comedy, The Star critic wrote: "Itís Wyn Davies that provides the audience its emotional anchor: Sir Peter is the playís lone straight-shooter, the only central figure who never dissembles. His lovable vulnerability is totally winning, but the character also discovers his steel when, in the final act, he oh-so-satisfyingly orders the frivolous secondary characters to 'leave my house.'Ē (4 June 2017). For the 2019 season, he played in Private Lives opposite Lucy Peacock, and reprised the role of Falstaff in The Merry Wives of Windsor.
Geraint Wyn Davies has also had an extensive film, television, and radio career.
He became an American citizen in 2006.
Sources: Carole Corbeil, "Dracula's straight man finds it exciting," Globe and Mail, 1 Jan 1981.
Rita Zekas, "It's a Wyn Wyn situation for actor," The Toronto Star, 28 July 1999.
Profile by Gaetan Charlebois and Anne Nothof.
Last updated 2021-01-19