Roberts, Diane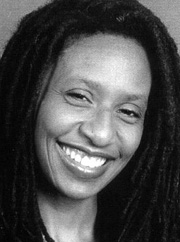 Diane Roberts
Director, dramaturge, actor, playwright, born in Surrey, England, who has worked across Canada, the United States, Britain, Europe, and the Caribbean for the past twenty-five years. She has a special interest in feminist, social action, and intercultural theatre.
Diane Roberts has a BA in Theatre (York University, 1988) and an MFA in Playmaking (York U, 1998). Recently, she has been pursuing a PhD in the Fine Arts Interdisciplinary HUMA program at Concordia University. Her PhD research centres "on the praxis of embodied decolonisation in contemporary performance".
She has directed productions for , Company of Sirens, Black Theatre Workshop, Cahoots Theatre Projects, Obsidian Theatre Company, Native Earth Performing Arts, Women in View Festival, Sudbury Theatre Centre, and Stratford Festival. As Artistic Co-Director of Nightwood Theatre from 1994 to 1996, she spearheaded the Groundswell Festival of New Works by Women. She was Artistic Director of urban ink productions from 2007 to 2014.
Directing projects include: Andrew Moodie's A Common Man's Guide to Loving Women; G.B. Shaw's Mrs. Warren's Profession; M. NourbeSe Philip's Coups and Calypsos; Djanet Sears' Harlem Duet; and Joan MacLeod's Little Sister, for which she was nominated for a Dora Mavor Moore Award in 1998.
A reading of her play Bone Bred was featured in the 2003 AfriCanadian Playwrights Festival in Toronto and in excerpt on CBC Radio. It was also co-featured in the 2004 Spring issue of Canadian Theatre Review.
Diane Roberts' current passion is the exploration and practice African and diasporic forms of theatre in a New World context. The Arrivals Project: A Personal Legacy Workshop Series brings together First Nations and minority artists in a creative collaboration of traditional and contemporary stories, dance, music, and installations.
Source: urban ink website
Last updated 2021-09-01