Frangione, Lucia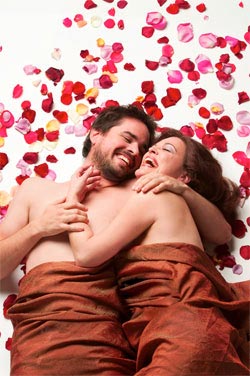 Kevin MacDonald and Lucia Frangione in the Arts Club Theatre Company's production of Paradise Garden.
Photo by Emily Cooper.
Vancouver-based writer, actor, and director, born in Calgary Alberta July 23, 1969. Lucia Frangione trained in theatre at Studio 58 in BC and Rosebud School of the Arts in Alberta. She worked with Chemainus Theatre on Vancouver island from its founding in 1993 to 1999 as an actor, artistic director (1995), and writer of seven plays. Since then she has been closely associated with Vancouver's Pacific Theatre, whose mandate is the non-propagandist exploration of Christian issues. There she produced a trilogy of irreverent comedies: Holy Mo (1999, dir. Morris Ertman); Cariboo Magi (2001, dir. Diane Brown); Espresso (2003, dir. Morris Ertman). She has also written for Ertman's Rosebud Theatre. She was artist in residence with Vancouver's Ruby Slippers Theatre company in 2003, which produced her new play MMM (2004), the story of the decline of three sex icons -- Mod, Mae and Marilyn. In March 2010, her play, Paradise Garden opened at the Arts Club Theatre at the Stanley Industrial Alliance Stage, directed by Ertman, with Frangione in a lead role. According to Ertman, the play "delivers a very real insight into what it means to be a hopeful human being. This is a story about paradise, and whether we're willing to believe we're whole enough to inherit and inhabit it. It's multi-generational, spiritual, and human; and, it's a love story!"
In March 2012, her play about the internment of Italians in Canada during WWII, Fresco, developed with BellaLuna Productions, opened in Vancouver to mixed reviews.

Expresso: Lucia Frangione, Todd Thomson (appear courtesy of CAEA)
Photo by Alex Dumitru
She is the winner of both the Gordon Armstrong (Holy Mo) and Sydney Risk (Cariboo Magi) playwriting awards. Critic Colin Thomas called Espresso "one of the best scripts ever produced by a Vancouver playwright." She is also a Jessie Richardson Awards-nominated actor.
Frangione teaches theatre at Langara College.
Website: www.luciafrangione.com
Profile by Anne Nothof, with information from Lucia Frangione and Jerry Wasserman.
Last updated 2020-12-07