Gilbert, Sky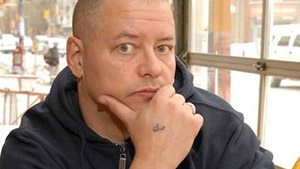 Sky Gilbert
Controversial and prolific playwright/poet/novelist/actor/director based in Toronto, Ontario, who has fundamentally changed critical/spectatorial/artistic approaches to Canadian gay and lesbian theatre. Born Schuyler Lee Gilbert Jr. in Norwich, Connecticut in 1952, he studied at York University (B.A.) and the University of Toronto (M.A.). In 2006, he completed a Ph.D. from the Graduate Centre for Study of Drama at the University of Toronto.
Co-founder (1979) and artistic director of Buddies in Bad Times for seventeen years, he took the company, which at one time specialized in works by or about gays and lesbians, into its new permanent residence on Alexander Street. Along the way, the company began to redefine its mandate; Queer theatre that experimented with form as much as character and plot was presented at Buddies.
In November 2018, Gilbert disassociated himself from Buddies in Bad Times: "Buddies is no longer a Gay and Lesbian Theatre, as it was when I was the artistic director. It has evolved into a space for a new generation of people challenging the mainstream in a new way. In order for those who have been wounded by the white colonial capitalist patriarchy to heal, they need their own home, and they must take power in that home. Buddies is now a home for people representing a range of intersectional genders and identities... I no longer want my name, my voice, my essays, my ideas, my plays, my novels, my poems, my art — or anything about me — to be associated with Buddies. I'm happy to make space for others." Gilbert withdrew his new "pastoral cantata" entitled Shakespeare's Criminal from the 2018/19 Buddies season.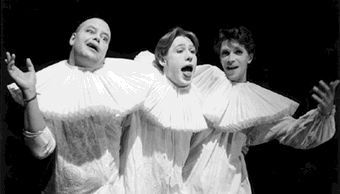 (L-R) Sky Gilbert, Gavin Crawford and Patrick Connor in Gilbert's Ten Ruminations on an Elegy, Buddies in Bad Times, 1996
Sky Gilbert has acted at Saidye Bronfman Centre, Tarragon Theatre and Nightwood Theatre, among others. In 1987 he was nominated for a Dora Mavor Moore award for his performance in The Edge of the Earth is Too Near, Violette Leduc.
Forty of his plays have been produced, most of which he directed himself, including: Lana Turner Has Collapsed! (The Theatre Centre, 1980); The Postman Rings Once (Toronto Workshop Productions/TWP, 1987); Suzie Goo: Private Secretary (Buddies in Bad Times, 1991, winner of the Dora Mavor Moore Award); Play Murder (Buddies in Bad Times, 1993, nominated for the Chalmers Award); Strange Little Monsters (Buddies in Bad Times, 1995, directed by Edward Roy); Jim Dandy (Buddies in Bad Times, 1996); Schubert Lied (Factory Theatre, 1998); The Birth of Casper G. Schmidt (One Yellow Rabbit, 2000); Hacker Love (Buddies in Bad Times, 2014); The Terrible Parents (Buddies in Bad Times, 2016). His latest play, Pat and Skee depicts the emotional trauma of his parent's divorce. It premiered at Theatre Aquarius

Sky Gilbert also writes and directs film, and has authored six novels and three poetry collections. He is an Associate Professor in English and Theatre Studies at the University of Guelph.

An archival collection on this subject is available at the L.W. Conolly

Theatre Archives at the University of Guelph, Ontario.
Last updated 2022-02-23