Long, James
Actor, director, and playwright, James Long has been making innovative theatre since 1995. He is a graduate of Simon Fraser University. In 2004, he co-founded Theatre Replacement with Maiko Bae Yamamoto and is currently co-artistic director.
As a freelance actor and director he has worked with Rumble Theatre, Neworld Theatre, Cindy Mochizuki, urban ink productions, Leaky Heaven Circus, The Chop Theatre, The Only Animal, Stanís Cafe, CBC radio and Electric Company Theatre, among many others.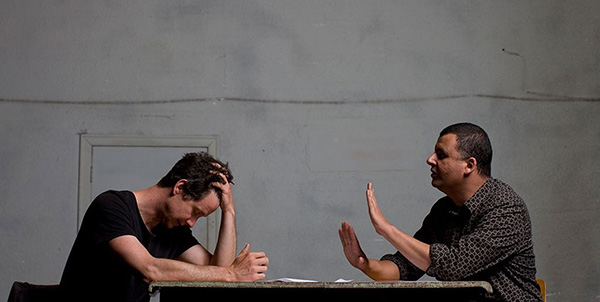 James Long (left) and Marcus Youssef in Winners and Losers
He has toured across Canada and in Britain and Ireland with Marcus Youssef in the entertaining and startling improv production, Winners and Losers, in which the two friends aggressively debate topics ranging from microwave ovens to fatherhood. It was nominated for a Governor Generalís Award in 2015.
Recent freelance work includes Morko, a site oriented performance created with visual artist and animator Cindy Mochizuk, and How to Disappear Completely, created for The Chop Theatre with lighting designer Itai Erdal.
He has also taught workshops and classes to established artists across Canada and to students at the University of British Columbia, the University of Regina, Simon Fraser University, Studio 58 and Seattleís Cornish College of the Arts.
Profile by Anne Nothof, Athabasca University
Last updated 2020-07-17