The Only Animal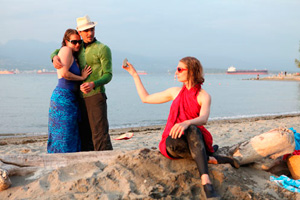 Sea of Sand by Eric Rhys Miller, Spanish Banks Beach
Innovative theatre company, founded by Kendra Fanconi and Eric Rhys Miller in 2005 in Vancouver British Columbia. The Only Animal creates theatre work that engages with specific locations and landscapes, both physical and imaginary. It explores the possibilities of the human condition through a wide range of works—from intimate performances with an audience of one, to large-scale spectacles. Many of its productions are collaborative projects with members of a coalition of creation-based Vancouver theatres called Progress Lab, and with other theatre companies across Canada.
In 2005 The Only Animal created Other Freds, featuring the work of 35 professional artists and 125 community members in a musical-clown-boat-bicycle extravaganza about the possibilities of parallel worlds, staged on and around False Creek, Vancouver. The One That Got Away (created with Electric Company Theatre) premiered in 2000 in Vancouver, was remounted in 2007, and toured to the Magnetic North Theatre Festival in Ottawa. NiX, Canada's first theatre of snow and ice, premiered at the Enbridge playRites Festival in Calgary in February 2009 as a co-production with Alberta Theatre Projects and Ghost River Theatre. NiX was featured in the 2010 Cultural Olympiad at Lost Lake, Whistler. You and the Moon, an intimate work for one audience member at a time, was presented by The Cultch Micro Theatre Series in 2010.
The Only Animal has produced short site-specific works for three HIVE festivals in Vancouver in 2006, 2008, and 2010, in which eleven eclectic theatre companies present mini-plays in a single venue. Sea of Sand by Eric Rhys Millerwas a site-inspired hybrid performance on the beach at Spanish Banks in 2011, combining pre-taped dialogue and live action in and out of the water, and alluding to the Selkie myth in its story of the consequences of a couple rescuing a young woman from drowning. In his review, Jerry Wasserman applauds the effective use of a beach location: "Unlike a lot of site-specific work where the setting is the only star and the script a minor player, Sea of Sand benefits from a smart, complex and often funny script along with strong acting, excellent swimming…" (ww.vancouverplays.com). Out On A Limb, comprising 52 stories of growing up and growing older, was performed in the trees of Strathcona Park in 2012. In 2013, The Only Animal created a short play for Theatre Yes's The National Elevator Project, performed in an elevator in Edmonton Alberta.
Works by The Only Animal have been nominated for thirty Jessie Richardson Awards and have won eight, including Best Production and twice for Significant Artistic Achievement.
Website: www.theonlyanimal.com
Last updated 2015-09-16