Newman, Richard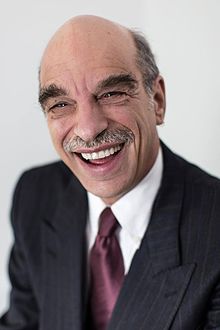 Richard Newman
British Columbia-based actor, born in Chicago November 2, 1946, who has worked in theatres across Canada.
For Canadian Stage in Toronto Richard Newman played Roy Cohn in Angels in America, which he also performed at Phoenix Theatre in Edmonton, winning an Elizabeth Sterling Haynes Award (Sterling Award). At Centaur Theatre, he played Malvolio in Twelfth Night; and in April 2000, Edmund Kean in the premiere of Marianne Ackerman's Venus of Dublin). Other roles include Merv in The Sisters Rosensweig (Arts Club), and Kent in King Lear (Women in View Festival).
In 2005, he appeared in The Diary of Anne Frank at the Arts Club Theatre. Reviewer, Jane Penistan wrote: "Richard Newman as Otto Frank gives a beautifully controlled and eloquent performance. He has the quiet dignity and compassion of a leader who knows how best to keep his assorted companions in as much harmony as is humanly possible. His is the brain that prepared the refuge, stocked it with as much food for thought and food for sustenance as possible, and organized friends to bring in supplies for the prolonged siege which was to ensue. His closing monologue is neither sentimental nor oratorical but heartbreakingly moving."
More recently, for Bard on the Beach's 2011 season, he played Shylock in The Merchant of Venice, and was nominated for a Jessie Richardson Award for "Outstanding Performance by an Actor in a Supporting Role, Large Theatre". He played the title character in City Stage New West's 2012 production of King Lear, and Tosca in Neworld Theatre's 2016 production of Doost (Friend) by Camyar Chai.
Newman has also worked extensively in television and film, and is notable for his numerous voice roles. In the late 1990s, he worked with the Canadian animation company Nelvana, and voiced characters in Franklin, Donkey Kong Country and Pippi Longstocking. In the US, he is best known for his portrayals of Rhinox in Beast Wars: Transformers (Beasties in Canada).
He lives in Vancouver and has one daughter, Sofia Bunting Newman, also an actor.
Last updated 2021-07-12