Pitcher, Jeff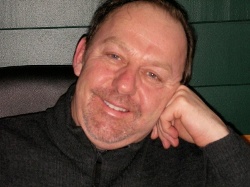 Jeff Pitcher
Born and raised in Newfoundland and Labrador, he has been working as an actor, director and playwright since 1976. He is the author of over fifteen plays, including Ed & Ed – Trapped (Burin Arts Festival, Nfld, July 2008); Sound & Fury (Theatre Newfoundland Labrador, May 2004); Elvis & Mavis (New Play Centre, 1992) ; and Scandal – The Robert Sommer's Story (Western Canada Theatre Company, Jan. 2005). He has also adapted for the stage J.M. Barrie's Peter Pan (Alberta Theatre Projects, Dec. 2006); Charles Dickens' A Christmas Carol (Grand Theatre, London, Dec. 2008), and The Merry Adventures of Robin Hood, based on the stories of Howard Pyle (Alberta Theatre Projects, Dec. 2008). His play The Death of Sir Arthur Currie, commissioned by Western Canada Theatre Company and the Great Canadian Theatre Company, won the 2008 B.C. National Playwriting Competition.
He began is career as a writer/actor with the Mummers Troupe in Newfoundland and toured Canada with a number of collectively written and produced plays including, They Club Seals, Don't They?, The Price of Fish, The IWA Show and Weather Permitting.
In 1979 he was a founding member of Rising Tide Theatre and acted in and co-wrote a number of plays including Joey and Daddy, What's A Train? In the 1980s he was a founding member of Theatre Newfoundland Labrador and the Stephenville Theatre Festival. In 1982 his first play, The Known Soldier, was co-produced by Theatre Newfoundland Labrador and Rising Tide Theatre. He continued to act, write and direct in Newfoundland until 1990.
In 1991 he moved to Vancouver and studied playwriting at the University of British Columbia. Since then he has written over a dozen plays that have been produced across Canada as well as the U.S and Ireland. He has also had a number of plays produced on CBC Radio.
In 2000 Jeff was appointed Artistic Director of Theatre Newfoundland Labrador. He currently splits his time between Newfoundland and writing in his home base of Vancouver.
Last updated 2010-04-29