Prescott, Marc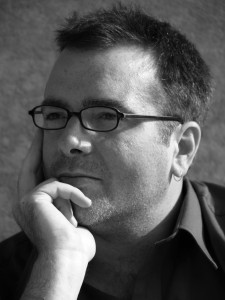 Marc Prescott
Playwright, actor, director, translator, designer, humour columnist and screenwriter, Marc Prescott was born in 1971 in Sainte-Anne-des-Chênes, Manitoba. In St-Boniface, he acted in twenty plays with Cercle Molière, Théâtre dans le cimietiere, and Théâtre de la parlure.
Prescott has a B.A. in Latin and philosophy, and a B.Ed from the College universitaire de St.-Boniface. He is a graduate of the National Theatre School of Canada in French playwriting, where he was mentored by André Brassard. Written while he was still a student, L'Année du Big Mac premiered at l'École nationale de théâtre du Canada in Montréal in 1993.
Prescott created a scandal with the production of Sex, Lies et les Franco-Manitobains by the College universitaire de St. Boniface in 1993. A biting satire, the play takes place during a house break-in on Christmas Eve: a French instructor lectures the thief on his colloquial French while being tied up in a chair. It portrays the limited sensibilites of francophones who insist on "pure" French. For Prescott, the way a language is spoken is an indicator of cultural and personal values and perspectives: "Franglais" is construed as a form of heteroglossia which incorporates diversity and difference. The play was published by Les Éditions du Bé in 2013, with Big Bullshit, which was produced under the title Poissons.
In Encore (Cercle Moliere 2003) "[a] symbolically nameless couple chart their 50-year relationship by recreating their first encounter on every anniversary. Madame has carefully written the script of their original encounter and they believe they can recreate the intoxicating feeling of falling in love by saying the same lines year after year but always fall short of this goal and are doomed to disappointment. They yearn to be seduced by the exact words of their original encounter but time and circumstance have changed the meaning of these words. Encore is essentially the same scene replayed six times but paradoxically it is never quite the same, which ironically is the message of the play. The play's title is a metaphor that life is indeed a stage. Encore is sad, funny, hopelessly romantic and lovingly bittersweet. The play was originally written and performed in French, and has been translated by the author" (www.goodreads.com). As J.R. Léveillé noted in his presentation of the first edition of Encore: "Prescott's importance for Canadian dramaturgy rests not only on his writing, but on his translation and adaptations as well. He has shaken up the conception of playwriting with fragmented texts, more symbolic than realistic, in a spoken‐word style that is raw and peppered with the franglais spoken by the young generation." Encore was published in English by J. Gordon Shillingford in 2009.
Fort Mac follows the hopes and ambitions of a young Quebecois and a Franco-Albertan who travel north to work in the oilsands of Alberta (Théâtre Vice Versa 2011, and UniThéâtre). Again, their ways of speaking French are indicators of personal values.
Prescott's plays have been produced across Canada and abroad in French and in English translation. Poissons and L'Année du Big-Mac won the Masques Award for Best Canadian Play in 2002 and 2007 respectively. In 2006, Prescott received the Prize of Excellence for his contribution to the advancement of French-language theatre in Canada. In 2007, he represented Canada at the Festival d'Avignon in France as a delegate to the Pépinière à projets, an international gathering of emerging theatre artists organized as part of the festival.
Prescott is a member of the playwrights unit at Prairie Theatre Exchange, and artistic director of Théâtre Vice Versa, a company dedicated to developing and producing original scripts and plays in translation in either official language.
Reading: Nicole Côté. "Répresentations des relations entre hégémonie et minorities dans trois pieces de théâtre franco-canadiennes," Theatre Research in Canada 37.1 (Spring 2016): 11-26.
Profile by Anne Nothof, Athabasca University
Last updated 2020-01-14