Quan, Elyne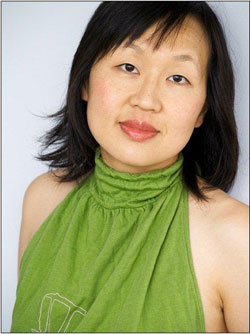 Elyne Quan
Playwright, actor and director, born in Edmonton, Alberta in 1973. Elyne Quan has an Honours B.A. in drama from the University of Alberta, an M.F.A. in dramatic writing from New York University, and has completed the television program at the Canadian Film Centre.
Acting credits include the athletic role of the Monkey King in an early version of Marty Chan's Forbidden Phoenix (2003).
Elyne Quan began writing roles for herself when she discovered the paucity of opportunities for Asian-Canadian actors, and performed in her first plays at the Edmonton Fringe Festival, and Theatre Network's new play festival, NextFest.
"Surface Tension" is one of three monologues comprising Triptych (Catalyst Theatre 1998), written after she travelled to the United Kingdom as an exchange student in her early twenties, when she was made to feel "different" from the Canadian "mainstream." It explores the tension that results when surface appearance becomes a primary indicator of identity. As she recounts in NTS Magazine: "I knew I was Chinese, but I didn't know I was different from anyone else until that experience. When people would ask where I was from, I'd say 'Canada' – and that wasn't a good enough answer. 'Alberta?' I'd say… I honestly didn't know what answer they wanted from me. . . I don't consider myself a hyphenated Chinese-Canadian writer, but simply a writer. But I recognize that I come from a particular perspective, which I bring to the table."
Other playwriting credits include the Sterling Award-winning Lig & Bittle, with Jared Matsunaga-Turnbull, (Concrete Theatre 2001), which toured to the Lorraine Kimsa Theatre for Young People (now Young People's Theatre) and the National Arts Centre; "What?", one of three short plays about family relationships and memories in Rice: Stories with a Slant (Concrete Theatre, 2001); One Block Radius (Edmonton International Fringe Festival, 2002); and a radio play, Direct Dial (CBC Radio). Productions of her plays at New York University include Trust, Apple Skin and Souvenirs of Home (KCACTF Region II NPP Winner & national David Mark Cohen Award: runner up).
She received the John Golden Playwriting Prize from NYU in 2005. Her screenplay, Subway Theory, placed first in NYU's Fusion Film Festival in 2005.
Her play, Stray, premiered at Workshop West Theatre in Edmonton in April, 2009 (dir. Michael Clark). When a young man arrives at the door of a husband and wife, and their daughter, claiming to be the son lost eight years previously in the woods, the family is torn between hope and distrust, revealing deep personal insecurities.
In 2009 she was commissioned to write a new play, entitled Retrospective by the Canadian Centre for Theatre Creation at the University of Alberta, as part of a project to increase the cultural diversity of Canadian theatre.
Souvenirs of Home premiered at The Theatre Centre in 2010. More recently, her play Pond Life was performed at theatres and universities around the world as part of Climate Change Theatre Action, an international effort to bring awareness to climate change. In May, 2023 Listen Listen premiered at Teatro Live! in Edmonton, which obsessively scrutinizes the positive and negative impact of Muzak on a book store salesman who in passionate about background music in the store, and a woman who prefers to shop and read in silence.
Elyne Quan was artistic associate at Concrete Theatre, and at Workshop West, where she led the Pitch-to-Play Playwrights' Unit for the 2006/2007 season.
She currently lives and works in Toronto. She has been president of the Playwrights Guild of Canada, and is a member of the Dramatists Guild, CAEA and LMDA.
Reading: Rosalind Kerr. "Re-Surfacing the Chinese-Canadian Body in Performance: Elyne Quan's 'Surface Tension' and 'What?'. Canadian Theatre Review 109 (Winter 2002): 32-37.
Source: Canadian Centre for Theatre Creation, University of Alberta: www.cctc.ualberta.ca
Last updated 2023-06-03