Springate, Michael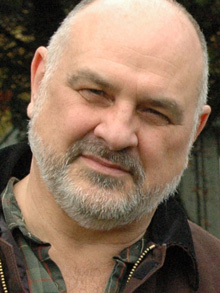 Michael Springate
Playwright, director, actor who began his career in Montreal, Quebec as founding artistic director of the Alternative and Experimental Theatre, The Painted Bird, in 1974.
Michael Springate studied at the Montreal Museum School of Fine Arts, and has an MFA in Interdisciplinary Arts from the School for Contemporary Arts at Simon Fraser University, where he has recently taught directing, acting, and playmaking.
In 1984 he became the artistic director of Playwrights' Workshop Montreal, where he initiated the program New Music New Text, as well as Playwrights' Retrospective. He became the Assistant Head of the Theatre Section at the Canada Council prior to becoming the artistic director of Prairie Theatre Exchange in Winnipeg from 1991 to 1994. His PTE production of The Stone Angel enjoyed a sold-out run at the National Arts Centre in Ottawa. He then became artistic director of Factory Theatre in Toronto from 1995-96.
As a playwright, Springate has written a series of "history plays": Historical Bliss, Dog and Crow, Kareena, Freeport Texas and, most recently, Küt, a multimedia performance piece in which he enacts four roles, including that of an American Vietnam veteran who has converted to Buddhism, and travels to Korea in an attempt to repair his splintered psyche.
He has also worked in film production and distribution, and wrote the screenplay for and produced Acts of Imagination, which had its Canadian premiere in 2006 at the Toronto International Film Festival.
He is currently an Artistic Associate with Full Circle: First Nations Performance, and a member of the Board of Directors of The Vancouver Latin American Cultural Centre. His first novel The Beautiful West & The Beloved of God was published by Guernica Press at the end of 2014.
Last updated 2022-05-04