Théâtre de la Bordée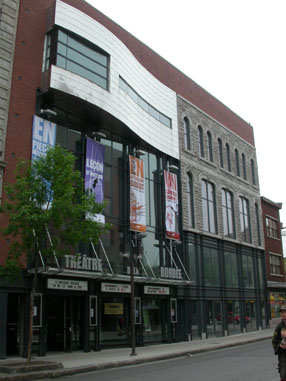 Picture by Transistor design
Mainstream theatre company in Quebec City, founded in 1976 by a group of young actors newly graduated from the Conservatoire d'Art Dramatique de Québec, including Pierrette Robitaille. Its artistic objectives are to produce quality productions with themes of everyday life that will speak to important issues for the community, to respect its public, and to explore new international theatre trends. It focuses on compelling and well-built stories, conveying strong ideas without undue intellectualism, hermeticism or estheticism.
From 1989, when the company moved into a new 256 seat venue, it had an increasing accumulated debt and, as a result, did not produce two of the four shows slated for the 1996-1997 season. With the support of the Quebec City drama community, the company announced its revival at the beginning of the 1997-98 season under new Artistic Director Jack Robitaille, with plays by John Pielmeier, Louisette Dussault, Jules Romains and Chrystine Brouillet.
In 2002 the company moved into its own venue, a four story building with a 350 seat theatre, a rehearsal room and administrative space. In 2004, actor and opera director Jacques Leblanc became Artistic Director. Under his direction Théâtre de la Bordée increased its membership and number of artistic activities. Since 2016, Michel Nadeau is the Artistic Director.
Among works the company has presented are Appelez-moi Stéphane by Louis Saïa and Claude Meunier, Oublier by Marie Laberge, Je ne suis pas Rappaport by Herb Gardner, Les frères Karamazov by Dostoïevski, Hosanna by Michel Tremblay, High Life by Lee MacDougall, Problem Child by George F. Walker (in a French translation), George Dandin by Molière and En attendant Godot by Samuel Beckett.
In 2006 the company celebrated its 30th anniversary with a season of four plays with a family theme: Les muses orphelines by Michel Marc Bouchard, Une pièce espagnole by Yasmina Reza, Phèdre by Racine, and Couche avec moi (c'est l'hiver) by Fanny Britt.
In November 2020, Théâtre de la Bordée moved on-line with its production of Le Gars de Québec by Michel Tremblay, when the Covid-19 pandemic closed theatres across Canada and the world.
website: https://bordee.qu.ca
Last updated 2021-09-13