Theatre St. Thomas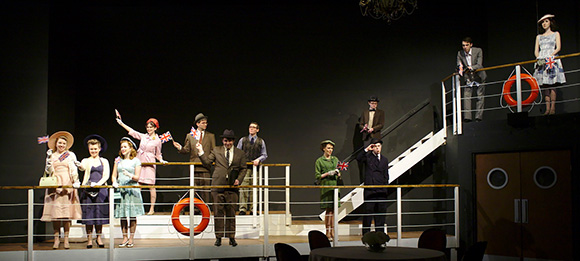 The Coronation Voyage Feb 2014; dir. Robin Whittaker. Photo by Stephen Moss.
Theatre St. Thomas (TST) is an extra-curricular theatre company in Fredericton, New Brunswick. Operating out of St. Thomas University (STU), TST's history dates back to when the liberal arts institution was first located in Chatham, New Brunswick between the years 1910 and 1964. TST began as a primarily student-run extracurricular activity. After the university's relocation to Fredericton in 1964, faculty member Ted Daigle took charge of the group. In 1978, Ilkay Silk took over responsibilities for TST when she was hired as STU's Drama Coordinator. After Silk's retirement in June 2014, drama professor Robin C. Whittaker became the group's Faculty Advisor and Artistic Producer. The current technical director for TST is Chris Saad.
Founded on the principles of a liberal arts education, TST offers students the opportunity to participate in theatre in ways their courses may not provide. Its constitutional mandate is to "act as the official organization representing extracurricular dramatic interest of students of St. Thomas University" and "to promote an active interest in theatre and to expand its members' knowledge about various technical and performing aspects of the theatre." In doing so, it provides a safe and nurturing, professional environment where students can engage with drama practically and critically. The company holds that the experience of live performance promotes critical thinking and is at the core of enhancing a liberal arts education. Theatre participation includes onstage and backstage activities. Students are able to volunteer as stage managers and tech crew for TST productions.
Auditions for TST's shows are open to all students, faculty, staff, and members of the community identifying as professional or non-professional practitioners. Since 1978, most productions have been directed by Silk, but students and guest theatre artists have also directed shows.
The company's two performance venues are both located on the STU campus. Before 1994, TST performed all of its productions in the 160-seat proscenium-style Ted Daigle Auditorium. In 1994, TST added the Black Box Theatre, a flexible-seating studio theatre that has been called "the best of its kind east of Montreal." It was built to accommodate increasing theatre activity on campus.
TST has been praised for producing high quality, challenging and affordable works that aim to develop critical audiences. Notable productions include Kent Stetson's Warm Wind in China (1991) in collaboration with AIDS New Brunswick; David Mamet's Oleanna (1997), with an actual professor and student from STU in the main roles; Timberlake Wertenbaker's Our Country's Good (2001), for which a former convict led workshops to educate actors on prison life; and the New Brunswick premiere of Michel Marc Bouchard's The Coronation Voyage (2014). In February, 2016, Theatre St. Thomas produced a new work by playwright Robin Whittaker and social worker Sue McKenzie Mohr, entitled No White Picket Fence. This verbatim play tells the stories of ten women who have experienced foster care.
Outside of its main theatre activities, TST has created shows for the university's Orientation Week to present issues like date rape and homophobia. In the past, federal grants were acquired to employ summer students for the purpose of staging productions. This niche is now filled by NotaBle Acts Theatre Festival. TST also helps run the New Brunswick Provincial Drama Festival and Conference (DramaFest), which the university hosts on its campus.
Notable TST alumni: Anna Silk (TV actor, Lost Girl); Ryan Griffith (National Theatre School of Canada graduate and founding artistic director of The Next Folding Theatre Company); Tania Breen (Director of TNB Theatre School & Young Company).
Website: http://wp.stu.ca/tst
Profile by Robin C. Whittaker and Rodrigo Flores, St. Thomas University
Last updated 2017-01-17