Thomas, Powys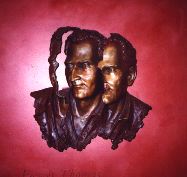 Bronze sculpture of Powys Thomas at the
Monument National
(sculpture by Jules Lasalle, assisted by Annick Bourgeau; photo: GLC)
Actor/teacher born in Wales in 1926, died there in 1977. Powys Thomas was the son of a Welsh preacher, and worked as a coal miner during WWII. He graduated from the Old Vic Theatre School, and acted with the Young Vic (1950-52), and the Royal Shakespeare Company (1952-54) before coming to Canada in 1956.
Thomas Powys working with the CBC, and was one of the original actors of the Stratford Festival, where he stayed for 12 years.
He co-founded the National Theatre School of Canada in 1960 and was artistic director of the English section until 1965. He also founded the Vancouver Playhouse School and was the first director of Stratford's actors' workshops. He had appeared on Broadway and in productions in virtually every regional theatre in Canada.
Among his best-remembered performances were leads in King Lear and Of the Fields, Lately (Vancouver Playhouse); Athos in Three Musketeers, Vladimir in Waiting for Godot and Filippo in Lorenzaccio (Stratford); and Vershinin in Three Sisters (Manitoba Theatre Centre).
Last updated 2020-04-27