Turnbull, Keith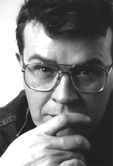 Keith Turnbull
Director, born 1944 in Lindsay Ontario. He graduated with a B.A from the University of Western Ontario in 1965, where he co-directed the premiere of James Reaneyís The Sun and the Moon for Londonís Campus Players in 1965.
He directed experimental works on the Second Stage of the Manitoba Theatre Centre from 1968-70, and was A.D of MTP in 1971-72. In 1973 he was A.D of Neptune Theatreís Second Stage.
His theatre career is most notable for the development of James Reaneyís three-part epic docudrama, The Donnellys. In 1973 he led workshops in Halifax on the first part, Sticks and Stones, which premiered at the Tarragon Theatre in 1973, followed by The St. Nicholas Hotel in 1974, and Handcuffs in 1975. His company, NDWT (Ne'er Do Well Thespians), toured The Donnellys across Canada in 1975. The trilogy was revived at the Banff Centre for the Arts in 1996-97.
NDWT premiered four more Reaney plays from 1976-81, including Wacousta!, which toured to northern towns in Ontario, Manitoba, and the Northwest Territories. An NDWT offshoot, the touring revue Northern Delights, gave its name to the establishment in 1980 of a new northern community theatre in Sioux Lookout, Ontario. NDWT also premiered works by other writers, included Gordon Pengilly. NDWT disbanded in 1982.
Keith Turnbull has taught at the National Theatre School of Canada, at the Universities of Calgary and Manitoba, and at the University of California, where he directed the premiere of Reaneyís The Canadian Brothers in 1983.
From 1993-99 he was A.D of Theatre Arts at the Banff Centre, where he developed the Contemporary Opera and Song program, and established a new play development program in partnership with Alberta Theatre Projects, called the Banff playRites Colony. He has directed theatre and opera productions across Canada and in Europe, including The Boiler Room Suite by Quenten Doolittle and Rex Deverell at the Banff Centre; Shelter by Juliet Palmer and Julie Salverson (Tapestry Opera/Edmonton Opera production) in Edmonton 2012 and Toronto 2013. In Sweden, he directed the world premiere of Carl Unander-Scharin's The Crystal Cabinet, for which he was co-librettist.
He has also translated The Ventriloquist by Quebec playwright Larry Tremblay for Talonbooks.
Source: Denis Salter. Oxford Companion to Canadian Theatre. Eds. Eugene Benson and L.W. Conolly. Toronto: Oxford, 1989.
Profile by Anne Nothof, Athabasca University
Last updated 2021-01-12