Wood, Tom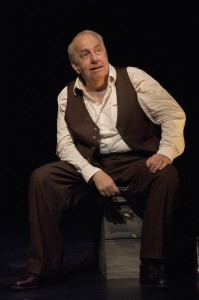 Tom Wood in Death of a Salesman Citadel Theatre 2011.
David Cooper Photography
Actor, playwright, director, teacher, best known for his long association with Citadel Theatre and director Bob Baker. Tom Wood was born in 1950 in Dawson Creek British Columbia and graduated from the University of Alberta Fine Arts program in drama.
One of his first professional roles was as Alan Strang in Equus by Peter Shaffer (Vancouver Playhouse 1976, dir. Christopher Newton). In 2006, he played the role of the psychiatrist in the same play at the Citadel Theatre.
Tom Wood spent seven years with the Stratford Festival and five with the Shaw Festival, and has worked at every major theatre in Canada. Major roles include that of Estragon in Waiting for Godot (Theatre 3, 1978); the homicidal nun in Sister Mary Ignatius Explains It All For You (Phoenix Theatre); Scrooge in A Christmas Carol (Citadel Theatre, 2000-2009); Selsdon in Noises Off (Citadel); John in Shining City by Conor McPherson, (Citadel 2008, dir. Bob Baker), Willy Loman in Death of a Salesman (Citadel 2011, dir. Baker), and James Tyrone in Long Day's Journey into Night (Citadel 2013, dir. Baker).
His wrote his first play, North Shore Live, with friends Nicola Cavendish and Bob Baker--a series of sketches replicating radio newscasts, interviews, and commercials, which played in Vancouver and the National Arts Centre. His next work, B-Movie, the Play (Phoenix Theatre, dir. Baker), about a man obsessed with films to the extent that they warp his perception of reality, was hugely successful in Edmonton and Toronto. The less successful screwball comedy, Make Mine Love, set in Hollywood in the 1930s, premiered at the Citadel in 2014 (dir. Baker).
At the Citadel Theatre he has adapted popular stories for the Shoctor and MacLab stages, including A Christmas Carol (2000), which was produced annually for fifteen seasons; Servant of Two Masters (2001, set in the Klondike); Vanya (2005, set in Alberta in 1928); Peter Pan (2006); Pride and Prejudice (2008); and Sense and Sensibility (2016). He has also adapted The Pirates of Penzance for the Stratford Festival.
Directing credits at the Citadel Theatre include The Glass Menagerie (2010), set in Morocco, with an overtly gay Tom, and a sexually-charged Laura.
In all his theatrical roles he endeavours to bring a contemporary perspective which audiences find relevant to their own circumstances.
Profile by Anne Nothof, Athabasca University
Last updated 2022-03-10