Chai, Camyar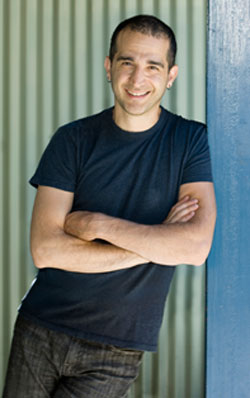 Camyar Chai
Actor, director, writer and producer, born in 1968 in Iran, and raised there and in England and the United States. His family moved to North Vancouver British Columbia in 1980, when he was 11 years old. He graduated from the University of British Columbia (Acting, 1992; M.F.A., 2007), and currently lives in Vancouver.
In 1993 he founded Neworld Theatre in Vancouver which produced the site specific collective Devil Box Cabaret (1999), based on Four Boxes by Iranian author Bahram Beyzaee; and an adaptation of Crime and Punishment by James Fagan Tait; and the cult hit that propelled its own company, The Leaky Heaven Circus 1999-2002). He served as Artistic Producer at Neworld until 2007.
He wrote and performed in I Am Your Spy: A Day In The Life of Mordechai Vanunu with Rumble Theatre. This production toured to Calgary, Montreal, and Toronto in January, 2001. His adaptation of Quest, Trail of Mystic Poets, Rummi and Attar was produced at the Vancouver East Cultural Centre. He co-authored Hurl Hemmhorage and Heal, the Nurses Musical, which toured for the British Columbia Nurses Union.
His other plays include The Adventures of Ali & Ali and the Axes of Evil (Neworld Theatre and Cahoots Theatre Projects 2004) created with Guillermo Verdecchia and Marcus Youssef), published by Talonbooks; The Asylum of the Universe (Neworld Theatre 2003), published in Canadian Theatre Review 116 (Fall 2003); and Ali & Ali: The Deportation Hearings with Verdecchia and Youssef (Neworld 2010).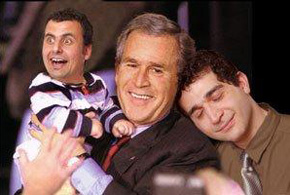 Marcus Youssef, George Bush, and Camyar Chai in The Adventures of Ali & Ali and the Axes of Evil
"Ali and Ali creators turn their idiosyncratic brand of post-identity satire to the whole new world: the global economy has tanked, the President of the World's middle name is Hussein and, in Canada, five Arab/Muslim men continue to be held without charges and access to the evidence against them. And there's that crazy climate change thing, not to mention the soon to be subjugation of Western peoples at the hands of the Red Chinese" (Neworld web site).
He returned to Neworld in 2016 for the twentieth anniversary of the theatre with a production entitled "Doost" (which means "friend" in Persian) that combines narrative, music and poetry to express his Sufi faith and its concepts of friendship and community.
In April 2019, his adaptation of Shakespeare's Richard III, entitled King Richard and His Women, was performed at Seven Tyrants Theatre, with Chai as director and scenographer. As Richard lies dying on the battlefield, he is haunted by the women he has loved, hated, and destroyed.
Camyar Chai has also written two librettos, Rosa and Elijah's Kite for Tapestry New Opera in Toronto. For the CBC he has written and broadcast sketches and commentaries. He has received a Jessie Richardson Awards for his writing.
As a director, he has worked for New Works, Touchstone Theatre, La Luna Productions and the Solo Collective Theatre. He received The Ray Michael Award for Most Promising New Director in 1999.
As an actor, he has worked for many Canadian companies including Vancouver Playhouse, Arts Club Theatre, Touchstone Theatre, Rumble Productions and Green Thumb Theatre for Young People, as well as appearing in many film and television productions. He has received a Jessie Richardson Award for his acting.
Camyar Chai is currently Program Manager, Community Cultural Development at the City of Richmond.
Profile by Anne Nothof, Athabasca University
Last updated 2020-10-26