Clarke, Denise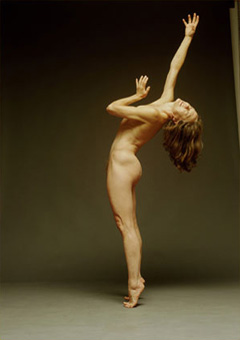 Denise Clarke in A Fabulous Disaster
Calgary-born, innovative performance artist, choreographer, and Associate Artist in One Yellow Rabbit, based in Calgary, Alberta. She trained in ballet from childhood and worked as a choreographer and dance teacher.
In 1983 she began working on collective creations with One Yellow Rabbit, and became Associate Artist and a permanent member of the Ensemble in 1986. She has created or co-created several shows for OYR including The Erotic Irony of Old Glory, Touch, CD Dance, Breeder, So Low, Permission, Featherland, Sign Language and Heavens to Murgatroid.
She has also choreographed works for Theatre Calgary and Alberta Theatre Projects in Calgary, for the Citadel Theatre in Edmonton, Crow's Theatre and the Canadian Stage Company in Toronto. In fall 2010, she designed the movement for the ATP production of The Penelopiad by Margaret Atwood, and played the part of Helen as an older vamp in a stunning red turban and gown, as well as one of Penelope's maids.
She has toured extensively in shows including Ilsa, Queen of the Nazi Love Camp by Blake Brooker with Clem Martini and Kirk Miles; Mata Hari: Tigress at the City Gates; Doing Leonard Cohen; Thunderstruck; Sign Language and Dream Machine.
Her performances are characterized by physical strength and energy; she sometimes performs in the nude. In November 2004, she presented her performance piece, A Fabulous Disaster at the Firehall Theatre in Vancouver. According to reviewer Kaija Pepper in The Dance Current: "For most of A Fabulous Disaster, Denise Clarke wears a white paper jumpsuit, with a white hood covering her head. Her costume puffs out around her, making her look bigger than she really is. Clarke's body language, too, is bigger, more expansive. Her movement has a power that is not just the result of heavy black work boots. There is also something about her upper body, the muscular way she swings her shoulders and lifts her arms. Her hand gestures are weighted and firm; her fingers punch and jab."
In 2014, she performed in her autobiographical dance work, Wag at the Magnetic North Theatre Festival in Halifax.
Denise Clarke created and became director of the Summer Lab Intensive School in 1997. She continues to teach, give master classes, and lecture, most recently at the University of Regina, Queens University, UC-Drama at the University of Toronto and the Quebec Drama Federation.
In 2013, she was appointed Member of the Order of Canada. She also holds an honorary doctorate from the University of Calgary.
Source: One Yellow Rabbit website: www.oyr.org
Profile by Anne Nothof, Athabasca University
Last updated 2020-11-03