Copithorne, Marianne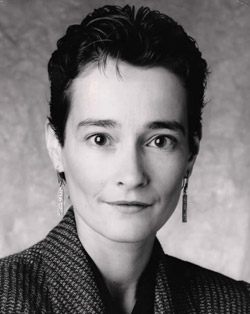 Marianne Copithorne
Award-winning actor, director, playwright and instructor based in Edmonton Alberta. She received a Bachelor of Fine Arts in acting from the University of Alberta, and after twenty years as a professional actor, she returned to the University for a Masters in Directing.
Marianne Copithorne has performed at many of the major houses in Canada in lead and solo roles: The Search for Signs of Intelligent Life in the Universe by Jane Wagner at Centaur Theatre; Saint Frances of Hollywood by Sally Clark at Alberta Theatre Projects; The Vile Governess by Stewart Lemoine at Teatro la Quindicina; Shakespeare's As You Like It, John Murrell's Waiting for the Parade, Neil Simon's The Good Doctor, Moliere's Tartuffe (1999), and Little Shop of Horrors (2000), all at the Citadel Theatre.
She has been a regular performer in the annual summer River City Shakespeare Festival in Edmonton with the Free Will Players, including the role of Lady Macbeth, (1999), and of Hermione in The Winter's Tale (2007). As Speed in the musical adaptation of Two Gentlemen of Verona by John Guare and Mel Shapiro (2007), she displayed her talent for a pants role. From 2009 to 2018, she was the Artistic Director of the Festival.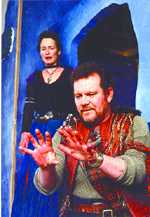 Marianne Copithorne with husband
John Wright
in the Free Will Players production of
Macbeth
directed by
Kim McKaw
(1999)
She has directed Theatre Network's productions of Perfect Pie (2002), Habitat (2006), and Palace of the End (2008) by Judith Thompson, a playwright she greatly admires. In February 2011, she directed an outstanding production of Communion by Daniel MacIvor.
She has also written for theatre. Her own plays, co-written with Murray McCune - Your Wildest Dreams and Haunting Melody - were produced at Theatre Network and Bastion Theatre.
In 2001 she won a Sterling Award for her performance in Betty's Summer Vacation at the Citadel.
Her performances are characterized by energy and innovation; she is particularly memorable in comic roles. She has worked extensively as director and actor with her partner John Wright.
Marianne Copithorne also teaches acting at MacEwan University in Edmonton.
Profile by Anne Nothof, Athabasca University
Last updated 2020-11-13